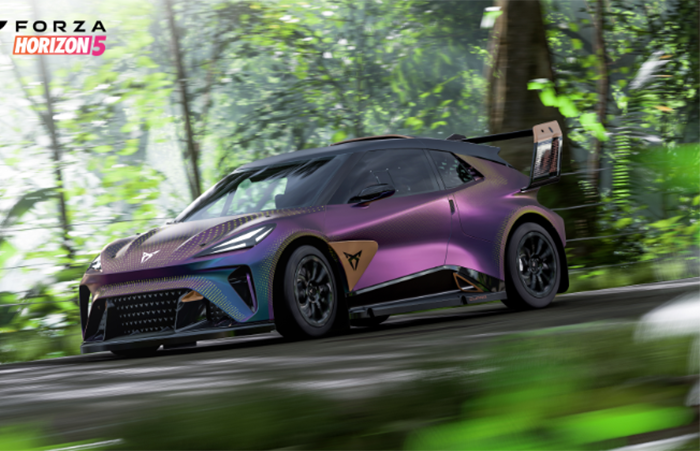 CUPRA URBANREBEL RACING CONCEPT: CUPRA UrbanRebel Racing Concept races into the virtual world of Forza Horizon 5
CUPRA continues its journey into the gaming world launching the CUPRA UrbanRebel Racing Concept in Forza Horizon 5
Virtual racers can now take to the game's expansive open world behind the wheel of the CUPRA UrbanRebel Racing Concept
Players of Xbox Game Studios' and Playground Games' Forza Horizon 5 can now take control of the latest CUPRA concept to join the vehicle stable. Players are invited to step behind the wheel of the all-electric race concept-car with a truly rebellious spirit. It's coming to the real world in 2025 (as a road-version), however Forza Horizon fans can experience the CUPRA UrbanRebel Racing Concept before anyone else in Forza Horizon 5.
Designed, developed, and built in Barcelona, the race concept-car mixes electrification, sustainability and performance integrating virtual aesthetics to create a design language for the future generation of electric vehicles. CUPRA injected a gamification look to the racing car, and now it becomes a reality in one of the most iconic video games. The CUPRA UrbanRebel Racing Concept take its livery surface that adapts and changes as the light moves across it, as well as a large spoiler with integrated lights that nods to the racecars of the virtual world into Forza Horizon 5's vibrant open world where players can immerse themselves in a deep campaign mode with hundreds of rewarding challenges, lead breathtaking expeditions, and meet new characters in Horizon Story missions.
"The CUPRA UrbanRebel Racing Concept is a gamified real-world racecar that perfectly fits into Forza Horizon 5, and it gives fans a chance to get behind the wheel of this car before anyone else!" said CUPRA Global Director of Strategy, Business Development & Operations Antonino Labate.
The CUPRA UrbanRebel Racing Concept has performance at its heart, delivering 250kW (340PS) of continuous power and up to 320kW (435PS) at its peak. It can accelerate from zero to 100 km/h in only 3.2 secs. It's the perfect match for Forza Horizon 5, where you can drive this unconventional concept car early, setting a fastest lap time around the Arch Of Mulegé circuit in Forza EV Rivals or by putting it to the test in dedicated Seasonal PR Stunts. Reach the finish line in true rebellious electric style. Also, Forza Horizon 5 takes place in Mexico, which is CUPRA's main market outside Europe and where the first CUPRA City Garage was opened.
CUPRA UrbanRebel Racing Concept will be distributed to everyone who plays Forza Horizon 5 during the Horizon Holidays series. It can be redeemed in the "Gifts" tab of the Message Centre for free through January 5, 2023.
This will be the second CUPRA car in the game. The Forza racing franchise is the official gaming partner of Extreme E and, within this partnership, the brand's all-electric CUPRA Tavascan XE landed in the game last summer.
Forza Horizon 5 is available on Xbox Series X|S, Xbox One, PC on Windows and Steam, and Xbox Game Pass including console, PC and Cloud Gaming (Beta) with Xbox Game Pass Ultimate.