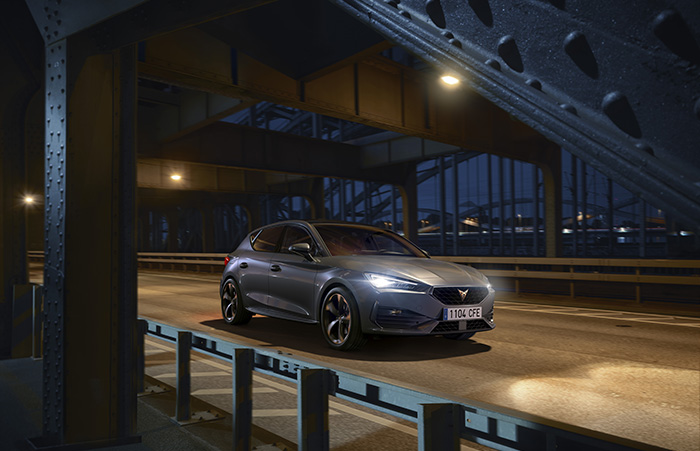 CUPRA increases engine range and equipment levels, maximising what the King of Leon's has to offer
CUPRA is boosting the Leon's range of engines to deliver even more choice and value for customers
The new line-up of petrol engines will include units with outputs ranging between 110kW (150PS) and 140kW (190PS), matching most of the CUPRA Formentor range.
Complementing the new powertrain options will provide a new level of value and sophistication to the CUPRA Leon family
The new line-up of engines will be available beginning from the third quarter of 2022
CUPRA is boosting its King of Leon's, broadening the range of engines available, delivering greater value and sophistication for customers.
Beginning in the third quarter of this year the CUPRA Leon will gain an even more accomplished line up of engines in both 5D and Sportstourer, with the introduction of a 1.5TSI 110kW petrol engine and a 2.0TSI 140kW unit both linked to a DSG transmission system.
"The CUPRA Leon is already a king on the road but we're always developing the vehicle to maximise the offering for our customers, making it more customisable and grow its sales targets," said Kai Vogler, Vice-president for Sales and Marketing at CUPRA. "With the introduction of these engines, our ambition is to achieve a big success with the CUPRA Leon, as we have done with the Formentor.
The newest additions to the CUPRA Leon family aren't solely focused on the scope of powertrains. The increase in engine options is matched by the enhancing of equipment levels, creating value and sophistication.
In terms of equipment with these engines, the CUPRA Leon will feature as standard, full-LED headlamps and CUPRA-specific bumpers and a rear body colour diffuser. As well as silver or copper 18" alloy wheels.
In the interior, it will come with textile CUPRA Sports seats and as an option leather CUPRA bucket seats supplemented by the stitched dashboard, all in a choice of Petrol Blue or black. The new line-up of engines and equipment will be available starting in the third quarter of 2022.