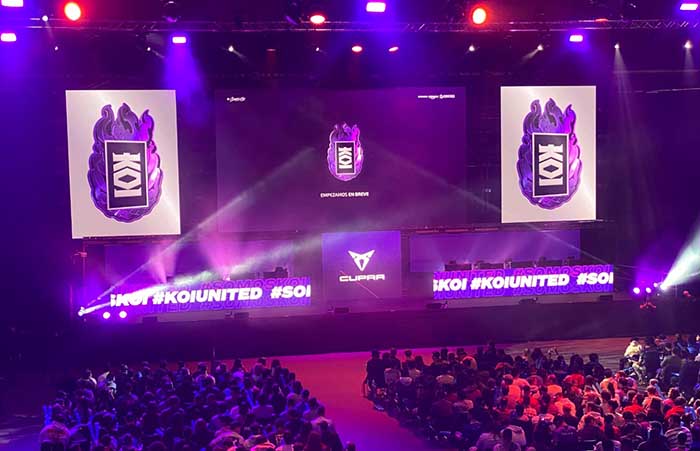 CUPRA levels up its partnership with European eSports organisation KOI to compete in the LEC next year
Announcement follows the merging of European eSports organisations Rogue and KOI to announce a 'strategic alliance'
Ibai Llanos, one of the world's most popular streamers, to become the featured ambassador for team KOI
CUPRA, the unconventional challenger, announces an evolution in its partnership with KOI, the eSports Club created by star streamer and presenter Ibai Llanos and former FC Barcelona legend Gerard Piqué. Having initially joined as a team partner in 2022, the automotive brand is now KOI's official automotive partner.
KOI will compete in the 2023 League of Legends European Championship (LEC), with CUPRA's branding appearing on the front of the team jerseys. Ibai Llanos, the eSports 2022 Streamer of the Year and a frequent CUPRA collaborator, will become KOI's featured ambassador. The announcement comes as Ibai secures the right to broadcast LEC games featuring the KOI team on his personal Twitch channel, an unprecedented move within the sport.
KOI's entry to the LEC comes after a merge with Rogue in October 2022, which sees both eSports teams forming a strategic alliance to deliver a squad that's championship ready.
CUPRA's brand will continue to have a presence at the KOI performance corner Barcelona – the Barcelona-based performance centre where the team will live, train and compete – as well as featuring heavily within the Berlin KOI performance centre, the team's hub for the LEC. In addition to the LEC, KOI will continue to perform in the LVP Superliga, one of the largest eSports competitions in Europe.
Antonino Labate, Director of Strategy, Business Development and Operations at CUPRA, said: "CUPRA challenges convention and pushes boundaries, something that we aim continue with this partnership. We are teaming up with one of the most exciting and passionate teams in eSports to develop the game even further, which is currently experiencing huge growth around the world. With this partnership, CUPRA commits to the talent of the younger generations that consume content from new and exciting digital formats."
Anna Baumann, EVP Esports at Infinite Reality, said: "We are excited to unveil our partnership with CUPRA. We are ready to break the mold utilizing our unique set of assets involving our beloved KOI Squad, our teams and of course our main ambassador Ibai Lllanos. Together with CUPRA, we are aligned in our unique approach for high performance and entertainment and are ready to dominate 2023 and beyond.
The eSports fan effect
Having positioned itself at the forefront of social and cultural trends that are increasingly attracting younger audiences, CUPRA has seen major growth on its social channels. Following the initial announcement of a partnership in 2022, which saw the Palau Sant Jordi sell 15,000 tickets in under 24 hours, CUPRA Social Media channels increased in +150K followers in less than 24H.