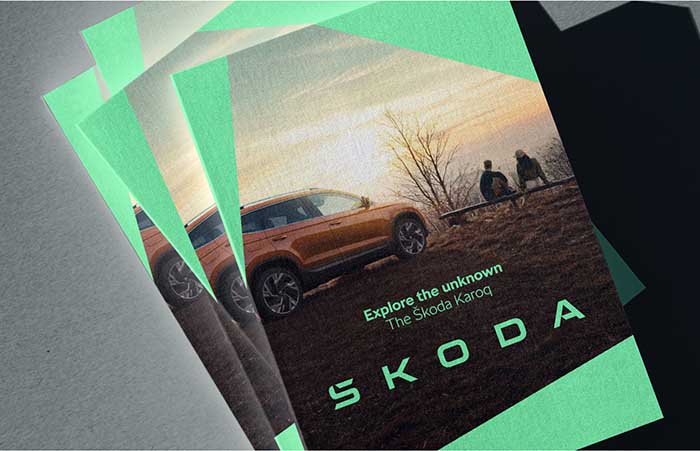 A FUTURE FULL OF NEW JOURNEYS
"The automotive world is experiencing a major transformation. Customers and their needs are also changing, and of course we need to keep pace with these changes. Škoda has always relied on its human touch approach and customer orientation is an integral part of our DNA. In a time of major change, we want to understand and meet the needs of our customers more than ever before," says Martin Jahn, member of the Board of Management responsible for marketing and sales.
People first
"We have built the whole brand strategy by placing people first. From our purpose work done with extensive deep interviewing to our definition of customer group, our goal was to place people at the center – we're the human brand after all," says Antonio Mineo, coordinator of Škoda Brand strategy team. "However, we are not focusing on the rational side only, we also answer their emotional needs. We have discovered that our customers are genuinely curious and excited to explore the world around them – not only do they love to be outdoors, but they also love to go places, encounter new cultures, they are open to new experiences in general, and we want to answer their desire for exploration."
The new logo, and the new identity set the direction for Škoda communication and its visual appearance. "But this is just the beginning. The whole communication across all markets will help our customers to feel empowered. It will also inspire them to explore the world around them," says Lucie Hůrková from Brand strategy team. "Of course the style of communication will change faster than the products, since it takes much more time to develop them. But we are already working on our company's new image now, and customers can already see the fruits of that work."
Lucie Hůrková
"We want to keep incorporating practical solutions into our cars, but we also want to have a positive impact."
Škoda wants to help customers explore the world around them and wants them to be able to rely on its cars to do so, as the Škoda Vision 7S study has already indicated. "Our purpose is that we will help the world live smarter. This means, among other things, that we want to keep incorporating practical solutions into our cars, but we also want to have a positive impact, be it in sustainability or just to empower our customers. Like them we're also on a journey to explore new and smart solutions, and like them we're also on an exploration. That's why we want to empower them on their everyday adventures, whether these are going to park around the corner with the children or on a journey the other side of Europe," adds Antonio Mineo.
A companion who drives you forward
The changes the company is working on are not cosmetic. On the contrary, most of them concern the complete inner workings of the car company and the customers will notice them indirectly. "Together with colleagues from other departments, we are addressing not only products and communication, but also HR in connection with the new strategy," explains Antonio Mineo. Cooperation across departments within the company has determined the direction that Škoda cars will take in the future.
Veronika Ziegaus, head of Brand strategy & content production, elegantly sums up the changes at the brand. "Journeys, whether big or small, are always more enjoyable when you have a partner you can rely on. A companion who drives you forward, inspires you, sparks your sense of curiosity and gets you where you want to go, all in a smart and stylish way. That's the kind of partner we want to be. We design products that are energetic and can take you on your latest adventure, whatever you want to explore."