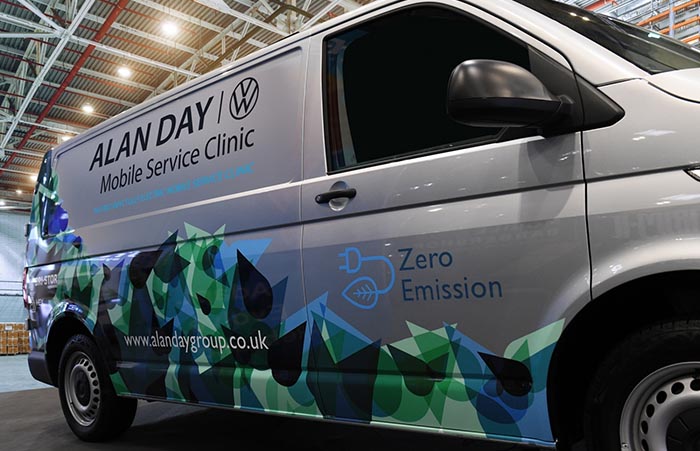 ALL-ELECTRIC VOLKSWAGEN ABT E-TRANSPORTER JOINS MOBILE SERVICE CLINIC FLEET
Volkswagen Commercial Vehicles introduces ABT e-Transporter 6.1 onto Mobile Service Clinic fleet
ABT e-Transporter will be used to support London-based customers
Trained technicians deliver bespoke service from Mobile Service Clinic
Conversion was first revealed at the Commercial Vehicle Show 2021
Milton Keynes, UK – Volkswagen Commercial Vehicles has introduced the ABT e-Transporter van onto its Mobile Service Clinic fleet to provide remote, zero-emission, expert servicing to businesses as part of the brand's 'Working with You' promise.
Following its debut at the Commercial Vehicle Show 2021, the Volkswagen ABT e-Transporter conversion will be in operation later this year, bolstering the brand's fleet of Mobile Service Clinics. The zero-emission van boasts a 75-mile range on a single full charge allowing Volkswagen trained technicians to reach businesses all over London, including those located in zero-emission zones, and reduce their downtime.
Vehicle downtime costs businesses up to £500 per van but with specially converted Mobile Service Clinics, Volkswagen Commercial Vehicles' expert technicians are able to carry out service work, inspections, A/C servicing, MOT repairs, minor warranty work and software updates remotely, while the vehicles are not being used. Similar to the existing fleet of Mobile Service Clinic vans, the ABT e-Transporter is specifically tailored to the needs of its customers. The panel van is kitted out with an array of on-board tools including compressed air jacks and even a hand wash basin.
The ABT e-Transporter conversion features solar panels fixed to its roof that sustainably power the vehicle's interior electrics with no requirement for an additional battery unit.
As a brand-new addition to the Mobile Service Clinic, provided by Alan Day Volkswagen, the all-electric van will carry out zero-emission journeys to customers across London. This is a vital element of the dealer group's commitment to reducing its carbon footprint in the capital as the company aims to expand its EV fleet.
Alan Day is a long-term franchise partner of Volkswagen Commercial Vehicles, providing premium customer service since 1972, and is the first Van Centre to add an ABT e-Transporter to its lineup of Mobile Service Clinics.
John McNally, Aftersales Manager at Alan Day Volkswagen, said: "At Alan Day, we are committed to minimising our carbon footprint and reducing vehicle emissions. We are based in London, within the ULEZ zone, so with the addition of the Volkswagen ABT e-Transporter, our expert technicians can service our customers all over the capital. The past 18 months have shown how unique our customers' needs can be and how much of a lifeline their vehicles are. With this Mobile Service Clinic, we are now in a position to service a vehicle at a customer's home if they are shielding or feel tentative about visiting a dealership."
The Mobile Service Clinic is a key offering as part of the Volkswagen Commercial Vehicles' Working with You' promise, aiming to reduce costly downtime for customers and offering maximised flexibility for businesses depending on their specific needs.
James Allitt, Head of Aftersales for Volkswagen Commercial Vehicles, commented: "We are delighted to announce the first electric van as part of our Mobile Service Clinic offering. The addition of the Volkswagen ABT e-Transporter marks a significant milestone in the electrification of our fleet, ahead of the ID. BUZZ Cargo in 2022."
For more details on Volkswagen Commercial Vehicles' award-winning range of products and services, or to find your nearest Van Centre, please visit www.volkswagen-vans.co.uk.