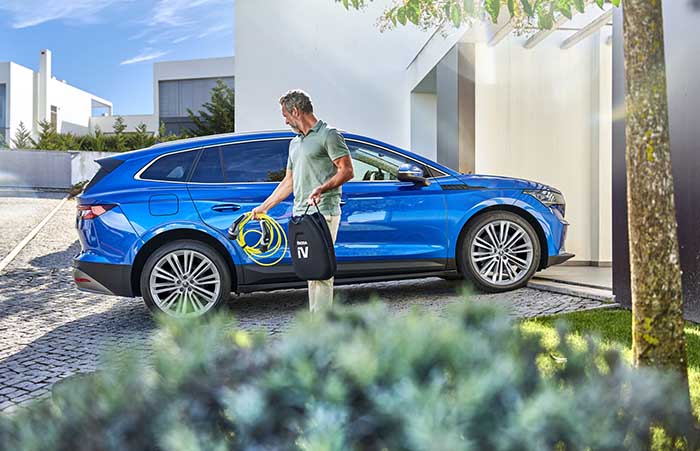 All you need to know before getting into an electric car
What should you expect when you buy an electric car? Above all, a new driving experience. And initially, perhaps, the need to get used to new habits and behaviours. But go for it – there's really nothing to worry about.
Is it necessary to start up a Škoda electric car?
No, that's something you'll never have to do again. Once you're in, just press the brake pedal – and that's it. The car is then activated, as indicated by a message displayed on the Virtual Cockpit. Then you just have to put the car in drive and set off. And it's just as easy when you reach the end of your journey – just get out and the car deactivates itself. Driving and operating an electric car is a piece of cake.
Do you need to change gear when driving a Škoda electric car?
No. Of course, you still have to select forward or reverse motion, like in cars with automatic transmissions. But the car's electric motor operates over a wide range of revolutions without the need to change gear, and with maximum torque available even at zero revs.
What about the car's range?
The range per charge is improving with each new generation of electric cars. The Škoda Enyaq iV provides a range of up to 547 kilometres, which is plenty for the vast majority of journey scenarios. Ideally, you can charge it regularly at home overnight or at work during the day. For longer journeys, it's a good idea to check in advance to find charging stations where you can stop along the way to partially or fully recharge the battery. There are lots of factors that affect a car's range, including driving style, speed and the temperature outside and inside the car.
The navigation system can easily find you the nearest charging stations, which makes route planning simpler.
How does charging work and how long does it take?
There are two charging methods: alternating current (AC) and direct current (DC). AC charging is not as fast as DC charging, which is related to the power supplied by the mains. In addition, 230 V or 400 V sockets in the household network supply alternating current, which the electric vehicle has to convert into direct current. Charging from a three-phase socket is faster due to the higher energy flow, but the current still needs to be changed from AC to DC. The fastest way is DC charging from a charger designed specifically for electric vehicles. Charging is a non-linear process – it takes just 36 minutes to charge a high-voltage battery from 10% to 80% capacity at fast-charging stations, but the remaining 20 percent can take about the same length of time.
Naturally, Škoda electric cars come with charging cables and other handy accessories like cable storage bags.
What is a wallbox?
A wallbox is a wall-mounted charging device for electric vehicles. It is powered by alternating current. The Škoda iV Charger, the Czech carmaker's official wallbox, is available in three models, each offering a different level of functionality.
Can I use any charger in town?
A wide network of charging stations across Europe can be used to charge electric cars – as long as the charger has a connector suitable for Škoda vehicles. There are several types of connectors, but in principle Škoda EV drivers don't have to worry about not being able to plug their car into any charging station they find. In Europe, a connector called CCS – Combined Charging System – has become the standard for DC fast charging. And this is just the widespread Mennekes connector, which is the standard for AC charging and is therefore found both in home wallboxes and in the cable supplied with the car, which can be connected to 230 V two-phase and 400 V three-phase sockets.
How do I pay?
You might think that in Europe you could simply pay for charging with a credit card, just like you would when buying any other goods. But in fact it's not that simple: you need to sign up to a specialist service like Škoda's Powerpass. Then it's no problem to register with most public charging providers
Does Škoda offer public charging for electric vehicles?
Yes, it's called Powerpass. With a Powerpass card you can charge practically anywhere. You also have all your charging and payment details at your fingertips in one app. Available since the launch of the first Enyaq iV, this tried-and-tested system also gives you access to the IONITY fast charging network. On Enyaq iV series vehicles with the current ME3 software, charging can be conveniently initiated at compatible charging stations by simply connecting the charging cable, thanks to the new Plug & Charge function. Vehicle identification takes place completely automatically at the charging station. All new Škoda models based on the Modular Electric Vehicle Platform (MEB) will also feature this function in future.
How does your car recharge while you're driving it?
One notable feature of electric cars is recuperation, which is essentially engine braking that recharges the battery. The Škoda Enyaq iV lets you choose from three levels of recuperation intensity using paddles under the steering wheel; or you can also select the most powerful level by putting the car in B mode. There is also a fully automatic mode where the car takes care of everything by itself. Recuperation fundamentally changes your driving experience – the strongest level brakes so effectively that the car starts to slow down as soon as the accelerator is released, so you can drive comfortably with just one pedal. Recuperation also helps increase the car's range.
What is the lifespan of an electric car?
A number of factors play a role, particularly driving style, car care and adherence to prescribed maintenance schedules. Having said that, the guaranteed battery life of a Škoda is eight years or 160,000 kilometres. In the case of the Enyaq iV and Enyaq Coupé iV, the battery capacity is guaranteed not to drop below 70% of its original level during this time. Adjusting an Enyaq iV's headlights during servicing.
What are the regular service intervals?
The Enyaq iV requires a service every two years. This interval applies in most countries, but in some the local regulations may set different rules.