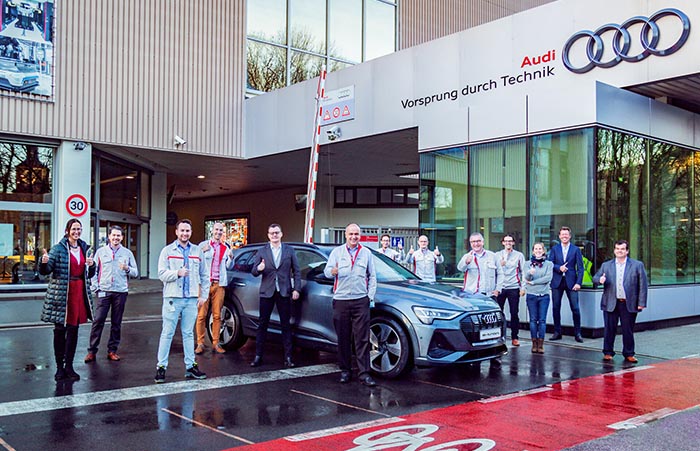 Audi Brussels wins the 2021 Industrial Excellence Award Belgium
Vlerick Business School presents the first Belgian Industrial Excellence Award to Audi Brussels.
"Audi Brussels is working tirelessly to stay ahead of the trends in digitalization and electrification and also to continue to set the standard in the future," says Volker Germann, CEO of Audi Brussels
It's official: Audi Brussels has won the first Belgian Industrial Excellence Award. This award was presented to the Audi plant in Brussels by Vlerick Business School.
The award ceremony took place on January 17 on the campus of Vlerick Business School in Brussels. Since 1995, 15 top European universities and business schools have been assessing the management quality and competitiveness in industry and services in the context of the Industrial Excellence Award Belgium (IEAB).
Ann Vereecke, professor of operations management at Vlerick Business School, said, "We are proud that Vlerick Business School can act as a Belgian partner for the European Industrial Excellence Award. This prestigious award gives recognition to companies that combine a clear and consistent strategy with excellence in operations. This year, the focus was specifically on how digitally enhanced processes can create superior value. The model for sustainable growth!"
Audi Brussels takes first place with a clear strategy for the future
Audi Brussels is the first winner of the Industrial Excellence Award Belgium. The decisive factor for the success was the company's clear strategy regarding innovation, digitalization, and electromobility. The plant has set itself the goal of becoming even more lean, sustainable, and digitalized. For Audi Brussels, digitalization is a journey with a clear goal: from collecting data to creating transparency to autonomous systems. "Audi Brussels is working tirelessly to stay ahead of the trends in digitalization and electrification and also to continue to set the standard in the future. A successful example is the conversion of the production to the manufacture of fully electric models and the associated complete transformation of the plant to networked processes and to the use of innovative production technology," says Volker Germann, CEO of Audi Brussels.
particularly noteworthy aspect of the digitalization is the integration of employees into the automation and digitalization projects, such as the new analysis software BattMAN ReLife, which checks the health status of the high-voltage battery within minutes. To ensure a successful future, special attention is also being paid to retraining and the further training of the employees at the Audi plant in Brussels.
After becoming the world's first carbon-neutral, large-scale production facility in the premium segment in 2018, the Audi plant in Brussels was awarded the title of Factory of the Future in 2020. The first all-electric SUV of the brand with the four rings has been produced in the Brussels municipality of Vorst since the autumn of 2018. The Audi e-tron Sportback followed in 2020. Last year, the facility celebrated a special milestone in its history with the production of the eight millionth vehicle. The Industrial Excellence Award Belgium underlines the pioneering role of the Belgian production plant in sustainability, electromobility, and digitalization.