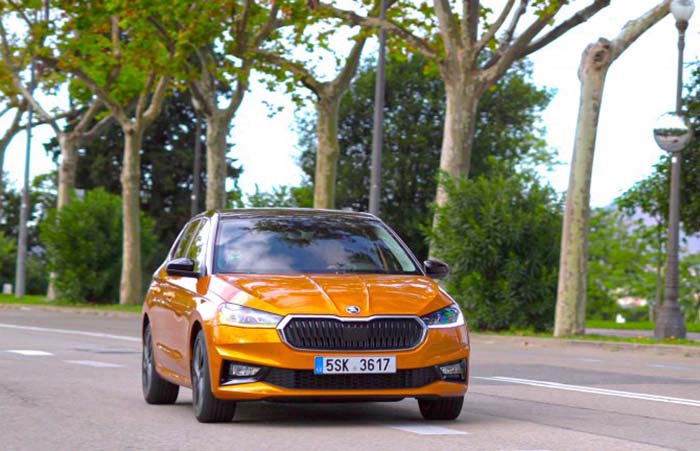 BE YOURSELF. THE NEW FABIA ALLOWS YOU TO DO JUST THAT
Stylish, spacious and practical, and always online. That's the new ŠKODA FABIA, an all-rounder that's particularly suited to urban life. The FABIA is self-confident and stylish, like its occupants, as a new video of four young sportspeople shows.
In the video, skaters Mery Muñoz and Emi Parejo, scooter rider Ivan Jimenez and skateboarder Alfredo Ourbon show off their cool and often mind-boggling tricks. And with its Phoenix Orange paint job, the FABIA lit up the streets of sunny Barcelona. The car's style credentials are enhanced by its black roof and black light-alloy 16-inch Procyon wheels with aerodynamic covers.
Muñoz
Inline skating pro and trainer Mery has over 56,000 followers on Instagram. Check out her somersault in the video.
Emi Parejo
Pro skater and trainer Emi has over 15,000 fans on Instagram. She only hooks up with the gang when they reach the skate park, but certainly doesn't get left in the shade there!
Ivan Jimenez
Scooter rider Ivan has over 37,000 Instagram followers. Try not to feel dizzy watching his tricks!
Alfredo Ourbon
Skateboarder Alfredo has almost 3,500 Instagram fans. See if you can count how many tricks he pulls off in the video?
The 380-litre luggage space means there's enough room in the FABIA for all our daredevils' sports kit. Its well-equipped and stylish interior offers plenty of room for all the car's occupants, who can also enjoy a number of conveniences and Simply Clever details. The infotainment system features modern connectivity functions, and it's as intuitive to operate as a smartphone, so your favourite Spotify playlist is just a couple of clicks away.