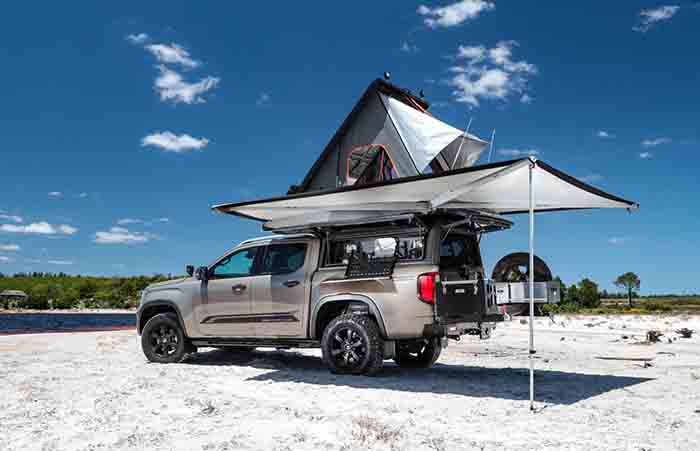 CARAVAN SALON 2023: NEW AMAROK AS CAMPER VAN WITH ROOFTOP TENT AND HARDTOP
Volkswagen Commercial Vehicles presents new products at the camping trade fair in Düsseldorf from 25 August to 3 September
Off-road and travel: a converted Amarok PanAmericana will also be there and driving around
Trade fair start with Amarok conversion: the Caravan Salon, which calls itself "the world's leading trade fair for mobile recreation", opens its doors today, with the Volkswagen Commercial Vehicles brand in Hall 16. In addition to the new California Concept based on the Multivan, further innovations will be on display. A new Amarok PanAmericana will also be on show in Düsseldorf. This special pickup has been modified by the equipment supplier Genesis Import to create the perfect overlander/camper van, including a rooftop tent, a 270-degree awning and an equipped Alu-Cab hardtop.
Volkswagen Commercial Vehicles (VWCV) will be showcasing its camping model range at the latest Caravan Salon. It will also be possible to see and experience the new Amarok as a PanAmericana model version driving in the area around the exhibition site on some days. Genesis Import GmbH from Schwarzach has upgraded the new premium pickup from Volkswagen. The basis is a black-painted Amarok PanAmericana with all- wheel drive, rear differential lock, 177 kW output, a 3.0 l V6 TDI engine and up to 600 newton metres of torque. Among other things, the off-roader comes with an equipped Alu-Cab hardtop, a rooftop tent and a 270-degree awning. Modifications to the suspension, BFGoodrich AT tyres with Delta wheel rims and styling are also included in the conversion. Additional LED lighting on the roof or additional headlights on the front end are also available, for example, for journeys in Scandinavia. This makes it possible to travel to exotic places as well as go on short and relaxing weekend trips to the countryside in the nearby area.
The design of the Amarok PanAmericana makes a robust statement. The pickup is equipped with IQ.Light LED matrix headlights, LED tail light clusters, front bumper in the vehicle colour, and driver and front passenger seats with electric 10-way adjustment. Also included is an infotainment system with 30.5 cm (12-inch) touchscreen and navigation system as well as leather seats and a leather-covered cockpit. The numerous standard assist systems on board include Park Assist with front and rear Park Distance Control and Rear Traffic Alert, cruise control system, intelligent speed assist system, ACC and Dynamic Road Sign Display.
In Germany, the premium pickup from Volkswagen is available as an Amarok in the "PanAmericana" model and equipment version from €69,009.29 incl. VAT or from €57,991.00 excl. VAT .