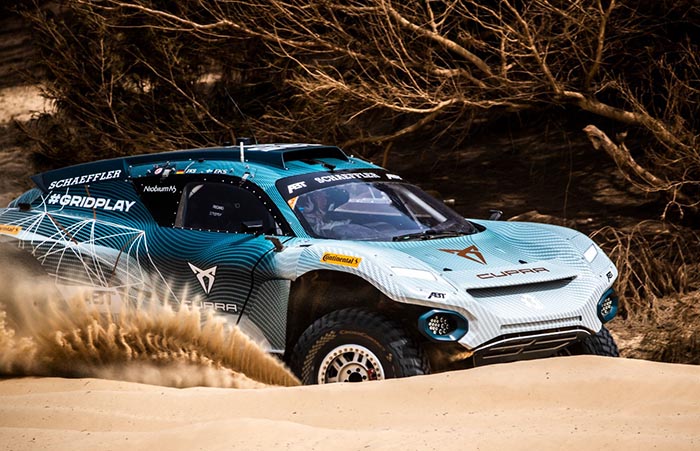 CUPRA aims for glory in Extreme E's first visit to Europe
The Island X Prix, the fourth event in the Extreme E calendar and the first to take place in Europe, is held in Sardinia (Italy)
Mattias Ekström and Jutta Kleinschmidt will fight for their first podium at the wheel of the e-CUPRA ABT XE1
Ekström competes in the Extreme E just days after winning the PURE ETCR championship with CUPRA
After competing in the Al-'Ula desert in Saudi Arabia, next to the Lac Rose in Dakar (Senegal) and in Greenland, the Extreme E changes continent and heads to Sardinia (Italy). Contesting the fourth round of the inaugural season of the 100% electric championship, team ABT CUPRA XE's goal is clear: reaching the final at the Island X Prix and claiming their first trophy of the season.
Team drivers Mattias Ekström and Jutta Kleinschmidt are poised to take the e-CUPRA ABT XE1 to the podium after showing fantastic pace in Greenland, where they reached the semi-final after leading the shakedown and setting the second-fastest time in qualifying.
CUPRA aims for glory in Extreme E's first visit to Europe
"We are improving every little detail in the car, in the strategy and in the procedures of the weekend. Now is the time for us to receive our reward," says Kleinschmidt, who has quickly adapted to the e-CUPRA ABT XE1, the 400kW (550PS) electric SUV that the 2001 Dakar winner will race for the third time next weekend.
Her team-mate, Ekström, just became champion of the PURE ETCR, the first multi-brand electric touring car championship, with CUPRA. The Swedish driver is now ready to get on the podium in Extreme E too. "Although the cars are different, participating in different championships has helped me to prepare to race here, because it allows me to compete constantly and maintain a high level of adrenaline. We are ready to fight for a nice trophy. Our car is fast, Jutta and I have fun racing together and the team couldn't be more committed. There are still two victories at stake, and we are going to fight for them."
The ABT CUPRA XE team is in sixth place in the general classification of Extreme E. Given the great equality existing in the championship, third place is only 22 points away, so a good result in Sardinia would allow them to get closer to an overall podium spot.
Extreme E's legacy in Sardinia
The Island X Prix is held in Capo Teulada, southwest of Sardinia, in the Sulcis-Iglesiente region. The competition will take place in a training area for the Italian Army, on a territory that will be very different from previous races, with a harder and more compact surface, and with rocks and bushes, which will be a real challenge for all participants.
Extreme E in Capo Teulada is a wake-up call on global warming, which is causing heatwaves and forest fires in various parts of the world. The championship will collaborate with local organisations to support the recovery of forests in the province of Oristano and other areas that have been victims of fires recently. It will also work to protect the Posidonia oceanica meadows, a plant species found in the Mediterranean Sea that is in danger.