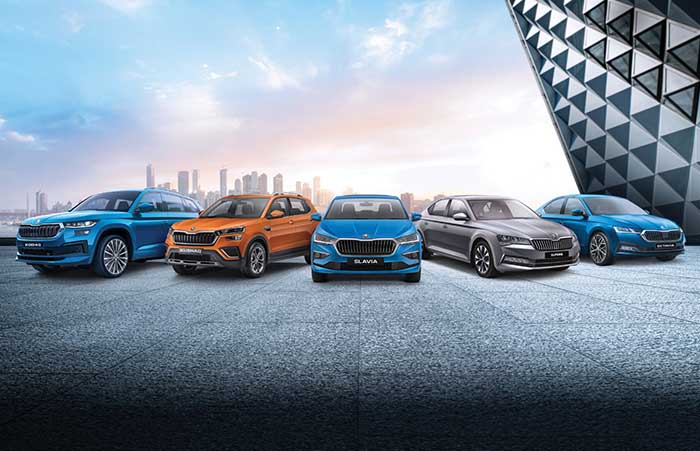 ELECTRICITY AND COMBUSTION WILL GO ON SIDE BY SIDE IN INDIA
How are Indian models of Škoda cars tweaked to meet local requirements? What are the brand's plans in terms of sustainability and carbon neutrality? How does Škoda deal with waste and water consumption? How about electric vehicles in India? And where will the largest rooftop solar power plant be? As a follow-up to our previous article on the story of the Czech carmaker in India and its current situation and success, we talked to the Managing Director and CEO at Škoda Auto Volkswagen India about the future. "As India moves towards safer cars and stricter emission norms, customer expectations are also changing as they seek better safety equipment and cleaner cars. A trend we strongly support," says Piyush Arora.
Which features do customers like and praise the most? Are Indian cars country-specific in any way?
The average Indian customer is young and tech-savvy and wants connectivity and new-age technologies in their cars. They appreciate features like Android Auto and Apple CarPlay, either wired or wireless with our increased reliance on smartphones for music and navigation. There are also some car-specific demands for things like the sunroof and ventilated seats.
How are Škoda's Indian models tailored to local needs, what's specific about them in comparison to other parts of the world?
Safety is one of the core values of the Group, which holds true for Indian consumers as well. The recent global NCAP test results further cement this, as the India-made Škoda Kushaq received a 5-star safety rating for adult and child occupancy protection. Since India is predominantly a chauffeur-driven market, the transmission tunnel was specially designed to have a flatter floor board and create more legroom for the rear-seat occupants. Another India-specific requirement is to have a flat spot on the dashboard so that car owners can conveniently place Indian deities on it.
Besides these, our India 2.0 models are highly localised, up to the tune of 95 per cent, customised to the Indian consumer's needs. This also helps to react faster to the changing trends of the Indian car buyers. Also, it reduces the waiting times when cars go in for service or replacement parts. Customers appreciate lower maintenance costs and faster turnaround times. And that's what we had as our primary goals when developing our India 2.0 cars. Our cost of ownership is now down to 0.46 rupee per kilometre.
What are your plans and goals in sustainability and in becoming carbon neutral?
Sustainability is an intrinsic pillar of our strategy. We are focused on decarbonisation, circular economy, biodiversity, social responsibility, water conservation and compliance, resilience and responsibility. We are on track to become carbon neutral in our operations by the 2nd half of this decade. By the end of the year, we shall have the largest rooftop solar power project at our facility in Chakan. We are already a zero-waste-to-land-fill company and are net water positive. And our facility in Aurangabad is now a green plant.
How strong is the eMobility topic in India? Are opinions any different from other parts of the world?
India is placing a strong emphasis on eMobility. The Indian government is pushing for the introduction of electric vehicles (EVs) to ensure a cleaner environment while reducing the need for oil imports. Indian government aims to achieve 30-per-cent EV penetration in the automotive space by 2030. Interest in EVs has increased substantially in the last few years and the Indian passenger vehicle market could see around 15 per cent of EV penetration. To achieve their ambition, the government of India is incentivising both the supplier side and the demand side.
What are your plans in terms of EVs in India? How will the offensive start?
We acknowledge India's enthusiasm for electric cars. Our group's luxury EVs – the Audi e-tron and Porsche Taycan – are already making their presence felt in India. Being among the first movers in the luxury EV space, we also did our bit to address the infrastructure challenges and customer perceptions. Globally, the Volkswagen Group is rapidly investing in the eMobility space, and India will benefit from this as well. The Group is getting prepared to bring in further EV models in India at the right time based on the market development and on how quickly the ecosystem develops as we want to play a major role in the growth of the Indian EV space.
Our brands Škoda and Volkswagen are evaluating the possibility of bringing EVs to India and are jointly working on this plan. We are experimentally testing Škoda Enyaq iV and the ID.4. Our present sense is to enter the market via the import of electric vehicles, based on volume growth and move towards local assembly of certain products, and finally move in to local production for the volume segment.
What are your plans with combustion-engine cars? How important are they for people in India? Do you plan to keep them, for how long?
The MQB-A0-IN is a modular platform with a host of possibilities which we are looking at exploring over the years. India is a market that is expected to grow further, and the post-pandemic revival is very promising. The peculiarity of India is, unlike other international markets which have seen an accelerated transformation into BEVs from ICE vehicles, we in India will see a sort of parallel growth in both ICE and BEVs. The transformation to electrics will happen faster here too, but that will be on a smaller base. But a high single-digit growth rate can be expected for ICE vehicles as well. The Group's objective is to participate in both these growth opportunities.
You mentioned the largest rooftop solar power project at your Indian manufacturing facilities. Can you tell us more?
Under the 'Green Future' philosophy, Škoda Auto Volkswagen India has taken some strategic steps towards sustainable energy. Our rooftop solar power project in Chakan and Aurangabad would reach 18 MWh this year, making it one of the largest in the country. It will bring over 18,000 Tons of per annum reduction in CO2 emission from the production process. It is a matter of great pride that we have been able to achieve 100-per-cent Green Energy certification for our Aurangabad facility in November 2022, well in advance of the stipulated timeline. This feat moves us closer towards our goal to achieve carbon neutrality by the second half of the decade and energises us to forge ahead with our Green Future initiatives.
Škoda in India is zero-waste-to-land-fill and water positive. What are your plans in this area?
The Group achieved the Gold Standard in water conservation projects implemented at its manufacturing facilities at Pune and Aurangabad. In addition, the company has implemented numerous water conservation projects in the Maharashtra region and undertaken conservation projects in Aurangabad to 220,000 m3 of the precious resource annually. We aim to increase our net contribution of water conservation from 1:1.05 to 1:3 annually by 2025. We have a zero liquid discharge facility where 95 per cent of solid waste is recycled and are also undertaking measures to be a zero-waste-to-landfill operation.