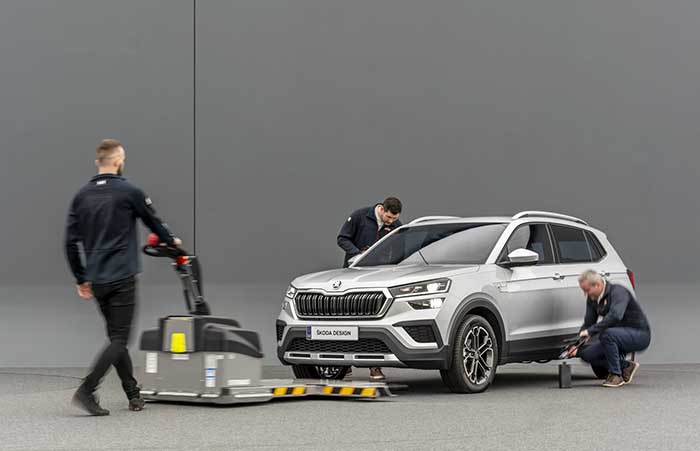 HIDDEN FIGURES OF DESIGN: TRANSPORT OF TOP-SECRET AND UNIQUE CARGOES
When the model of a forthcoming new ŠKODA car is ready for presentation, someone has to transport it to the presentation venue. That is the job of one of the pillars of the Design Modelling and Digitalisation department known as the Design Presentation Support team. This unit was founded at ŠKODA in 2004 and has been led by Michal Morávek in the role of presentation preparations coordinator since the beginning.
"Our work is not routine, even though it might seem so at first glance," Morávek says. There are basically three types of car model presentations: the first are top secret, at which the management of ŠKODA or Volkswagen Group are supposed to approve the design. No unauthorised persons may get a glimpse of anything. The second are public premieres, either at car shows or in the online environment. And the third are car exhibitions, which are often held in unusual locations so that the effect of the car is enhanced by the particular space. With all these types of presentations, there is always something special the team has to deal with when transporting the models.
Morávek's team transports all types of models, i.e. clay models, "hard" models made of solid materials, and also mobile presentation models that actually "look" like a finished car. "We're actually the first people to drive the new car, even though it's often only a few metres," he smiles. But the demands of the job and the responsibility involved give little reason to smile at first glance. "Most of the time we are handling unique pieces of incalculable value that are irreplaceable for presentation but are also less than robust. It's a huge responsibility," says Morávek.
Michal Morávek - presentation preparations coordinator
Pack, secure, supervise
What does transporting car models entail? First of all, everything has to be carefully prepared "at home" in Mladá Boleslav: some parts (such as door handles and mirrors) are packed separately to minimise the risk of damage during transport. Other parts are secured in place with tape and protective films. The models are then loaded for transport – usually in special trucks with an air-conditioned freight space. If the model's presentation destination is outside Europe and it will therefore be transported by air, a special air-conditioned container is provided.
"The models require a constant temperature of between 20 and 22 degrees Celsius. There are about three freight forwarding companies in the world that are able to provide this kind of transport," says Morávek. Even then, someone from the design support team oversees everything. "At the airport, we make sure that the transfer from the check-in area to the aircraft hold is as quick as possible," explains the team leader. When everything arrives on site, the model needs to be unloaded, unpacked and assembled. Special lighting needs to be set up, for example, and the correct ground clearance settings are checked, as these can influence the audience's impression of the car. If the presentation features any handling or driving of the models, this is of course tested in advance, but again everything has to be tested again on site. "Particularly at events where there are a lot of people milling around the cars, we are also responsible for making sure no harm comes to the model," Morávek adds.
Presentation in a former bank or online
The work of these special logistics experts is made even more complicated by the fact that models are often transported to and displayed in unusual places. But even if the car is merely being readied for presentation on its home turf in Mladá Boleslav or on the company polygon, this still may not be an easy task. "Sometimes we have to prepare seven models for a single presentation, and that's a lot of work for our team of eleven. Last year's event at the polygon was a record: we prepared 21 different models at the same time, and that was a hugely complicated operation," explains Morávek.
Public presentations of the models, which are often staged in unusual locations, are a challenge. "We have displayed models in the Mánes exhibition hall in Prague, for example, but also in a former bank building during a design festival," Morávek points out. In places like this that were not designed with cars in mind, the operation is a real challenge. "We have to transport the cars there, of course, but that's just one detail. Sometimes we have to completely figure out how the car is going to be presented at a given place and how we can actually get it there," says Morávek. In the former bank building in the centre of Prague, for example, it was necessary to demolish a part of the entrance used to get the cars inside and then restore it to its original state after the exhibition.
"You often only have centimetres to work with," Morávek says. In these cases, the person driving the model (whether sitting inside the car or controlling it remotely) does not manipulate the car by himself, but has other colleagues to help him. "The models often have a restricted view, with no cameras or other equipment, and their proportions are always new to us," he says, explaining why driving the models is so challenging. "We have ŠKODA's best drivers in our team," Morávek says in praise of his colleagues.
Every presentation has its own rules, depending on whether the audience is the company management, journalists or the general public. Even presentations at car shows are not a walk in the park. These usually take place abroad, and this involves a lot of paperwork, among other things. The design presentation support team handles this part of the operation as well. "The biggest challenge at car shows is time: there is work being done on the models until literally the last minute, and that doesn't leave much room for delays during transport," explains Morávek. "The people in the Design Presentation Support team work under a lot of time pressure but can achieve great things," says Martin Bogner, Morávek's boss and Head of Design Modelling and Digitalisation (EDM). He explains why the team's work is so important: "Design presentations for management approval of a car, for example, are one of the final stages of the design process we're involved in, and probably the most critical stage. How the presentation goes will have a major impact on the fate of the car: in other words, whether management approves it," says Bogner.
Martin Bogner - Head of Design Modelling and Digitalisation
Morávek's team is also responsible for the handling of the models during the presentation, whether it's controlling the popular "turntable" rotation system or any driving choreography. What's more, these days there's another big challenge to overcome. "We've seen a rapid increase in the number of digital presentations, so we have had to quickly improve our ability to arrange and execute complete video transmissions," says Morávek.
In addition to car shows, in-house and in-group presentations and any other public exhibitions (including, for example, models displayed at the ŠKODA Museum), the design support team also steps up if ŠKODA design models feature in films or TV series. "If you see a ŠKODA concept car in action on screen, it's being driven by one of us," Morávek says, illustrating how diverse the team's work is.