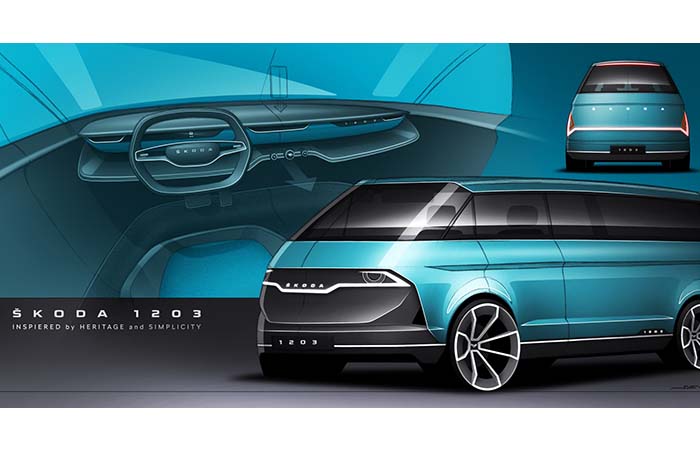 ICONS GET A MAKEOVER: A PRACTICAL CAMPER VAN
When designer Daniel Hájek inspects the good-as-new ŠKODA 1203 during the photo shoot, memories come flooding back: "We have a flatbed version like that in the garden of my grandparents' house, but it's not roadworthy any more." And when he adds that "it was kind of my first car, we used it on our farm, and when I was fifteen they let me start the engine now and then and drive it around the field," it's clear that it was no accident he chose the legendary ŠKODA utility vehicle for the Icons Get a Makeover series.
But his choice was not only driven by nostalgia. "Yes, I talked about it with my colleagues and they said that if I have experience with the 1203 I could try to reimagine it for the new millennium. But I also think a vehicle like this would be great for the ŠKODA brand today," says Daniel. In his view, it's a vehicle that perfectly embodies the brand's values: practicality, a lot of interior space and Simply Clever solutions.
In his vision the "new" 1203 is a modern camper with a "pop top" roof. "This kind of car has been gaining in popularity recently, so in the end that's the kind of design I went for. But my first idea was to design a peloton escort vehicle for the Tour de France," says Daniel, referring to the Czech carmaker's well-known involvement in the world of cycling.
Not retro
When working on his study of a modern ŠKODA 1203 he tried to bring the legendary van's design into the 21st century. "I wanted it to be clear from my study that this is the same vehicle, but I didn't want it to be too obviously retro. I designed a modern vehicle that pays homage to the legend," he says of the philosophy behind his study. Overall, his main goal was to come up with a pure design. "I wanted it to be timeless," he explains.
So Daniel's 1203 got a "double peak", as the designer describes the slightly protruding edges of the roof and radiator grille that have sharper lines than the rounded features of the original. He replaced the 1203 horizontal perimeter lines with the "tornado line" that typify today's ŠKODA cars and endowed his creation with a very up-to-date light signature. "I thought long and hard about how to reference the original's round lights without them being too retro. That's why there's just a hint of some curves here, but otherwise the light signature is new and bold," says Daniel.
The vehicle's rear end was the toughest nut to crack for Daniel. "The original 1203 is relatively narrow. Modern cars are much broader, and what's more I was trying to come up with a way to reference the headlights, which were the same on the 1203 as on the 1000 MB," he explains. So the van is optically widened by the horizontal lines. The slanting sides and relatively narrow roof pay homage to the 1203's slender frame.
ŠKODA 1203
The ŠKODA 1203 was the most widely used Czechoslovak utility vehicle of the 20th century. It was first unveiled on 14 September 1968 at a machine engineering trade fair in Brno. These vans played a role in the whole lives of Czechs and Slovaks: from the cradle (ambulance version) to their final resting place (hearse version), not to mention in the form of minibuses, vans, flatbeds or assembly versions. This utility vehicle with a single-space body was powered by a four-cylinder OHV engine generating 38 kW. At first the model was manufactured in Vrchlabí, but in 1981 production was moved to Trnava in Slovakia, where the 1203 was made right up to the second half of the 1990s.
Variability is paramount
In Daniel's vision, the new 1203 stands on the Transporter platform that is also used by Volkswagen Group. But it could easily be all-electric as well. "An electric car would allow for an even better use of space," he says. The interior is dominated by a minimalist dashboard, which also features distinctive horizontal articulation, and a horizontal two-spoke steering wheel.
The shelf in the shape of an upside-down wing in the lower part of the dashboard is also a nod to the historic 1203. This shelf contains storage space and, interestingly, is retractable. "A slide-out shelf could get in the way in a normal car, but in a van it's practical."
As far as infotainment is concerned, at first sight it might seem that Daniel failed to capitalise on his special skills. As a designer of user interfaces, his work deals with the appearance and functioning of infotainment systems, but his 1203 doesn't actually have one. "The idea is that the driver uses his own device, like a smartphone or tablet, to access this information," says Daniel, adding that he could, of course, design a special app for these devices to control the vehicle's functions. The dashboard only has a small information display behind the steering wheel and next to the ventilation vents. The display is mirrored by a plate bearing the model's name in front of the passenger seat.
Daniel sketched his 1203 with a biro and finished it off on the computer. "It's my favourite way of working. What's more, I always have a biro with me. Using it leaves no room for mistakes, and a felt-tip makes a fairly characteristic line, so my sketches are a bit different: less dynamic and more illustrative," he explains.
Daniel Hájek
This 31-year-old Czech designer's career has been bound up with ŠKODA right from the start. After studying graphic design and packaging technology at higher vocational school in Štětí, Daniel then went to the Ladislav Sutnar Faculty of Design and Art in Pilsen. There he channelled the passion for cars he'd had since childhood by specialising in transport vehicle design. He joined ŠKODA in 2016, while still a student, and worked on his degree project in collaboration with the Czech carmaker. He is now a user interface (HMI) designer, so you can find the fruits of his labour in the dashboard systems of the ŠKODA OCTAVIA and ENYAQ iV. He also contributed to the VISION X, VISION RS, VISION iV and VISION IN prototypes. In his free time he creates his own, highly surreal artworks under the pseudonym DENI.