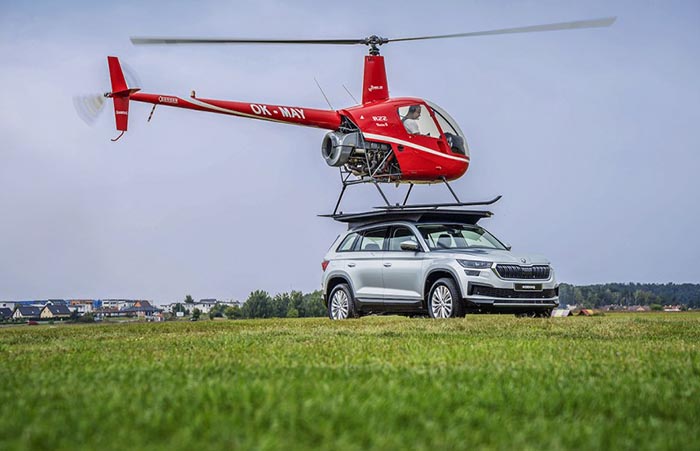 KODIAQ WITH A HELICOPTER ON THE ROOF
The ŠKODA KODIAQ is not afraid of any challenge. The popular SUV has proved this again by becoming a helicopter landing pad! All it took was a platform attached to the roof of the car.
The silver KODIAQ underwent only minimal modifications for the helicopter landing. The modifications were the work of ŠKODA DESIGN modellers and experts from the EGV prototype construction department. Together, they built a platform attached to the car's roof frame. "It is a steel structure designed to distribute the load evenly. It's attached to the roof frame in the place where roof rails are normally attached. The surface of the platform is made of wooden boards," says Petr Erben, one of the modellers.
Although the Robinson R22 helicopter weighs more than half a tonne with the pilot and landing platform, the production KODIAQ did not need to be reinforced. Only the rear suspension of the car was strengthened to ensure the axles were optically balanced.
When all the preparations were finished, the next step was to get the helicopter onto the roof. After a static test, when the helicopter was simply lowered onto the car, the chopper took to the air and, with experienced pilot Jan Čermák at the controls, landed safely on the roof platform of the ŠKODA KODIAQ SUV.
Petr Erben
Modeller from the design team of ŠKODA
The KODIAQ with a Robinson on the roof then became a highlight of the Robinson Helicopter Session 2021, a meeting of helicopter owners and pilots organised by Nisa Air in Mladá Boleslav.
It needs to be said, though, that this was not the first time that a helicopter landed on the roof of a ŠKODA. In 2011, a helicopter landed on a platform on the roof of a ŠKODA YETI model in one of the episodes of the popular BBC show Top Gear.