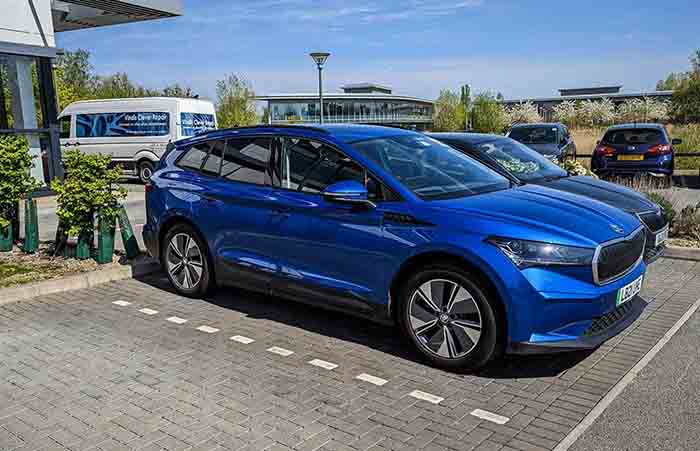 My Enyaq: Driving into the electric future
Practical, spacious and family-oriented. How's everyday life with an Enyaq in eastern England?
In yet another part of our series of articles introducing owners from the world increasingly embracing electric vehicles (EVs), we dive into the experiences of Michal Klucz, an IT expert residing in the east of England and a proud owner of the Škoda Enyaq 60. With its sleek design, spacious interior, and impressive range, Michal shares his journey into the world of EVs and offers insights into everyday life with his Škoda Enyaq.
"The Škoda Enyaq caught my attention due to its impressive features and overall promise," shares Michal. As an IT expert and a family man, Michal found the Škoda Enyaq to be a perfect fit for his lifestyle, offering a balance of performance and practicality.
Before acquiring the Škoda Enyaq, Michal had a diverse range of cars, including Swedish and Japanese brands, and several company cars on a rotational basis. However, the Enyaq is his first electric car for personal use, having only experienced company-owned plug-in hybrid electric vehicles (PHEVs) previously.
Michal explains, "When it came time to choose my new car, my company offered great financing for electric vehicles. While deciding in 2020, I had to rely on trust, as I hadn't seen the car in person. Škoda was a brand I trusted, and I believed it would deliver at least what was promised, so I went ahead and pre-ordered the Enyaq."
Michal Klucz
With a typical usage pattern consisting of daily commutes, trips to the gym, and school drop-offs, Michal finds the Enyaq to be a reliable companion. "Charging to 80 per cent every second night keeps me prepared for unexpected trips to London or further north," he shares. While most charging occurs at home, Michal has occasionally used public chargers, finding them reliable overall.
The Škoda Enyaq offers a range that suits Michal's needs. "In the winter season, I can achieve around 270 kilometres, while in the summer, it increases to 350 kilometres or more," he explains. Additionally, Michal embarked on a memorable long trip from Cambridge to Newcastle, Amsterdam, and Warsaw, showcasing Enyaq's capabilities for long-distance travel.