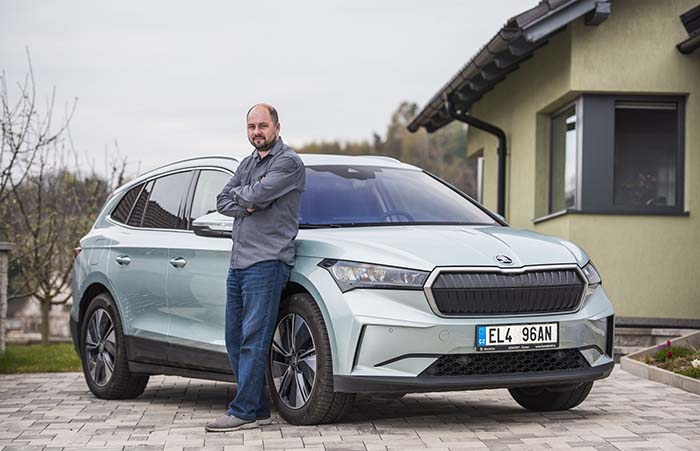 MY ENYAQ iV: PEOPLE ONLY FOCUS ON THE RANGE OF ELECTRIC CARS
Forty-five-year-old Josef Patočka recently went to fill up his girlfriend's car. "When I started the cold diesel engine, I was horrified by the noise it made, even though it's one of the latest engine models. Once you're used to the silence of an electric car, you never want to go back," is how the first-ever Czech owner of an all-electric ŠKODA ENYAQ iV begins his story.
Josef is a fan of all-wheel drive; in fact, he's never owned a car without it. "My parents have a hybrid that only goes a few kilometres on pure electricity. But I liked the idea so much that I started to think more about electric driving – but in a way that meant I wouldn't be going fifty kilometres per charge, but five hundred. And without an internal combustion engine," he says, explaining his motivation for getting an electric car.
First ENYAQ iV in Czechia
Josef Patočka and his brother are the third generation running the family business in North Bohemia. He and his girlfriend are raising two daughters in the town of Turnov and his hobbies are cycling and travelling. Including travelling by car. He has owned his ENYAQ iV since the first day the Czech carmaker's first all-electric SUV went on sale in the Czech Republic – 13 May 2021.
The North Bohemian businessman now drives his electric car to work every day, as well as regular trips to Prague and Brno and other destinations across the country. In his words, the ENYAQ iV is the ideal family car thanks to its dimensions, spaciousness and boot size. Even in winter time the living is easy with an electric car: five minutes before you set off you can switch on the heating via the mobile app, and by the time you get into the car the windscreen is defrosted and the interior is nice and warm. And the same goes for summer cooling. "I charge my car at work mostly. It's much more convenient than going to a filling station for petrol or diesel. You don't have to go anywhere, stand by the pump and then pay. Here I just come to work, plug in the cable and forget all about it. When I leave, I have eighty per cent capacity, which is easily enough for 350 to 400 kilometres. I'm usually in the forty to eighty per cent range, which also extends the life of the battery. The car is charged practically all the time, either from home or work. I only use public charging stations on longer trips. And I pay my electricity bill once a year," he says.
Josef drove the first ten thousand kilometres with an average consumption of 14.9 kWh per hundred kilometres. For the next ten thousand, in autumn and winter, the on-board computer read 20.5 kWh/100 km. He isn't obsessed with minimising consumption: he's happy to use full power when overtaking and of course he also uses the air conditioning and heating. In summer, Josef Patočka can drive five hundred kilometres or more on a full battery, even at a relatively brisk pace. In winter, the range is a third to a quarter less.
The satisfied driver has another observation to add on the subject of consumption: "When you're driving fast on the motorway, consumption obviously increases and the range is reduced. In that sense it's just like a car with an internal combustion engine, where you burn up seven litres per 100 kilometres on the motorway instead of the usual five. In my case, the car is using about 23 kWh instead of 17 kWh. Heating or air conditioning reduces the range by about a tenth."