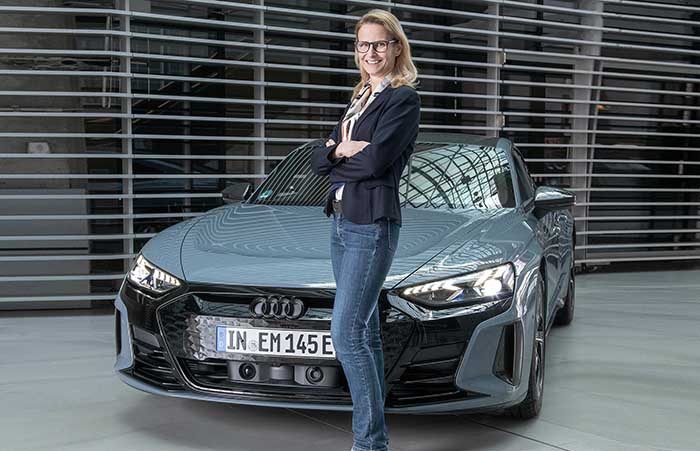 Renate Vachenauer to be new Board Member for Procurement at AUDI AG
Supervisory Board Chairman Döss: "With Renate Vachenauer, a renowned electromobility and digitalization expert is taking over the Procurement department."
Acting Supervisory Board Director Mosch: "With her, we will continue to ensure Audi's future and keep moving forward on an efficient path toward electromobility."
CEO Duesmann: "Renate Vachenauer brings a great deal of expertise that will make a significant impact on our success in the coming years."
Today, the AUDI AG Supervisory Board chose a successor for the Procurement position on the Executive Board. Renate Vachenauer will begin running the department starting April 1, 2023. Since January 1, 2023, the previous Board Member, Dirk Grosse-Loheide, has also been the Board Member responsible for Procurement at the Volkswagen Passenger Cars brand and Head of Group Procurement on the Extended Executive Board. On April 1, he will transfer his position at Audi to Renate Vachenauer, who has been the head of development interior, interaction/data management at AUDI AG since April 2021.
Manfred Döss, Chairman of the Supervisory Board of AUDI AG: "With Renate Vachenauer, I'm particularly excited that a renowned electromobility and digitalization expert is taking over the Procurement department. Her experience with digital ecosystems makes her the ideal candidate to meet today's challenges and advance our transformation into a software-driven mobility provider. On behalf of the Supervisory Board, I'd like to thank Dirk Grosse-Loheide, who has been an outstanding leader in the department these past few years, despite the adverse conditions in the supply chain."
Peter Mosch, acting Supervisory Board Director and Chairman of the General Works Council, says that, "with Renate Vachenauer, we will continue to ensure Audi's future, even in changing times, and move forward on an efficient path toward electromobility. Stabilizing the supply chain and, in the process, the workload in our plants are particularly important goals for achieving that. Dirk Grosse-Loheide has kept Audi Procurement on course in the face of strong headwinds since 2020. I'd like to thank him for that on behalf of the workers."
Markus Duesmann, CEO of AUDI AG: "Particularly in Procurement, these past three years have shown how important effective leadership is for safeguarding our business to the greatest extent possible in tumultuous times. I'm grateful to Dirk Grosse-Loheide for his outstanding work and I wish him great continued success in his job at the Group level. At the same time, I'm very much looking forward to welcoming Renate Vachenauer onto our Board of Management. She has a great deal of expertise in the field of digitalization and electromobility, which will make a significant impact on our success in the coming years."
Renate Vachenauer has a doctorate in electrical engineering and held various positions with the BMW Group in Germany and abroad between 1999 and 2020. Among other things, she was in charge of the active driver assistance systems department as well as electric powertrain control units. After that, she worked as department director for transmission/drive train development and later took over the My Journey business line, which is responsible for navigation, mobility services, e-mobility, and map-based proficiency functions. She has been with AUDI AG since 2021 and is the head of development interior, interaction/data management. Starting on April 1, 2023, she will manage the Procurement department at AUDI AG.