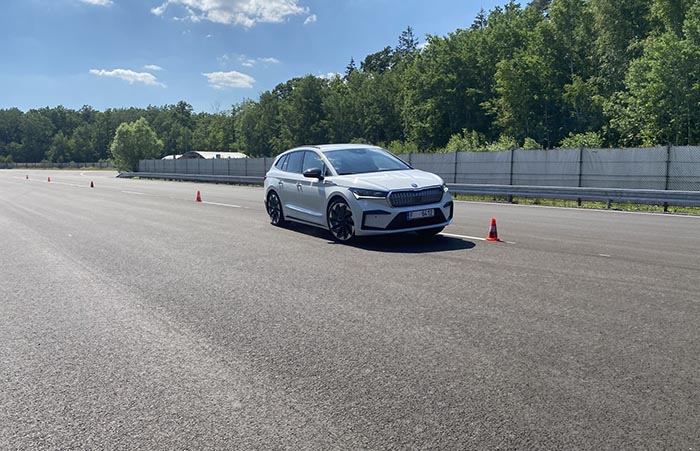 SHOCK ABSORBERS: IT'S A HARD LIFE
Shock absorbers are a vital part of cars that we don't even notice. We simply expect them to provide comfort, safety and the enjoyment of a more dynamic ride. How do shock absorbers do that?
The function of shock absorbers is to absorb and evenly dampen shock impulses when a vehicle drives over uneven surfaces. "They therefore have to ensure that the wheels are in constant contact with the road surface. The way they are set up affects not only your comfort, but also the car's handling, safety and stability," explains Filip Černý from ŠKODA's Chassis Development Department.
Three brothers
Today, the vast majority of cars have gas-charged shock absorbers. Their principle consists in a damper with an oil medium in which the damping effect is provided by a moving piston and a set of pressure-relief valves. "In addition to oil, gas-and-liquid shock absorbers are also filled with an inert gas, usually nitrogen, under a certain pressure, which has better properties than air and which also prevents the oil from foaming, thus improving the shock absorber's function," explains Černý.
Three types of damping systems are used in all ŠKODA vehicles:
1. The basic conventional shock absorbers are mostly twin-tube shock absorbers; only the new ŠKODA FABIA uses a monotube shock absorber on the rear axle for both the normal and sports chassis.
2. Premium "Dual Mode" shock absorbers with two adjustable modes can be ordered as an optional extra for the ŠKODA SCALA and KAMIQ models – this is a damping system where the shock absorbers have one extra flow valve on the piston rod which the oil flows through during damping, depending on whether the car is in sport or normal driving mode. This system also includes a small control unit that sends a pulse to an electromagnet that opens or closes the additional second flow valve, thus reducing or increasing the damping forces and changing the handling characteristics from comfortable to sporty and vice versa.
3. The DCC adaptive damping system is currently the most advanced damping technology available to customers in ŠKODA vehicles. This system consists not only of shock absorbers, but also three accelerometers, three wheel uplift sensors and a control unit, which also receives information and signals from other vehicle units such as the engine unit, ESC and steering gear. Each of the DCC shock absorbers has a sophisticated electromagnetic valve that opens and closes in milliseconds based on developer-set parameters, reducing or increasing the oil flow in the shock absorber depending on the current driving situation and selected driving mode. These parameters are therefore dependent on input signals such as vehicle speed, car body acceleration, body roll and pitch, overall vehicle load, throttle position, steering wheel rotation etc.
Computers also help with tuning
Shock absorber development and adjustment is almost always done in cooperation with a reputable supplier. The biggest modifications are made to the valve system, which determines the oil flow and therefore changes in the damping forces depending on the speed of the piston rod. Each new model has different dimensions, different weight distribution, different body stiffness, all of which can only be compensated for by the damper. Modifications to the valve systems are made directly in the car on pre-production prototypes, up to a year and a half before the official launch.