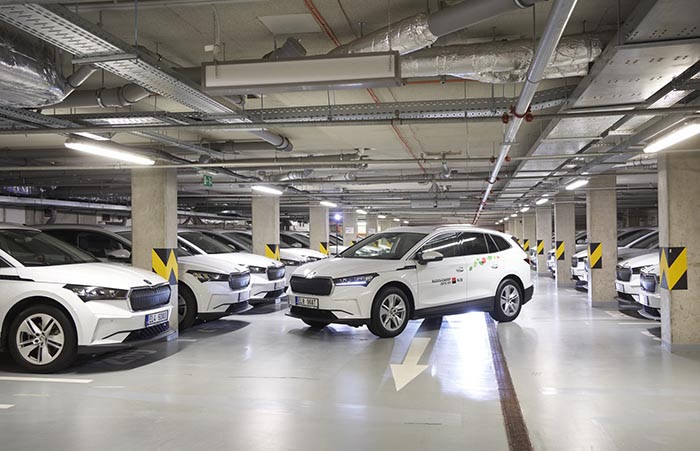 BANK ON THE ROAD TO CARBON NEUTRALITY
More than 130 company cars are "pool cars", which means that employees borrow them as needed. The rest are assigned to individual managers or salespeople as permanent company cars.
The bank decided to gradually convert its fleet to electric five years ago, when CEO Jan Juchelka took over the reins. "He led by example and started driving an electric car. He did a lot to overcome the prejudices and myths that abound," says Tomáš Talaš, manager of the employee services division, which is in charge of the corporate fleet at Komerční banka.
Last year, the bank's management decided to electrify its pool cars as well. Since October this year, 131 ŠKODA ENYAQ iVs have been part of the fleet. Roughly half of them have been in service for several months already, while the rest have recently been integrated. Only two cars with combustion engine remain in the pool for longer journeys.
"Komerční banka is committed to being a carbon-neutral company by 2026. As a brand we want to be conscientious, and sustainability is an integral part of our strategy. This implies a number of commitments, not only carbon neutrality, but also, for example, that we want to offer sustainable loans, or how we are perceived by investors. At the same time, we want to be seen in this light by our clients and employees – so the switch to an electric fleet makes sense. And ŠKODA makes the same sense to us – it is a big local player and has been an important and natural partner for us for many years," says Jitka Haubová, member of the board of directors responsible for operations at Komerční banka.
ENYAQ iV and seventeen competitors
CEO Jan Juchelka echoes those words. "We want our own behaviour to show we save energy, have a responsible approach to business, are a good corporate citizen and take conscientious care of our employees. Reducing CO2 emissions goes hand in hand with this, and as the bank does not have manufacturing plants with smoking chimneys, we are looking for other areas where we can foster sustainability. The fleet of company cars is one of the pieces of this puzzle. We are used to ŠKODA cars and have been for a long time – so it was only natural that, given the brand's major move into the world of electric mobility, ŠKODA was one of the carmakers approached for the tender."
The ŠKODA ENYAQ iV beat seventeen other models in the tender. "What was quite unique was that we had them all delivered at the same time and tested them in normal traffic, in the city, on county roads and on the motorway. A number of cars were discarded after failing to meet the basic requirement of at least managing 250 kilometres of motorway driving. Of course, we were also interested in design or practicality and usability for off-duty driving – our employees can also hire these cars for private use. We actually have an internal rental service, which is very popular among our colleagues," explains Talaš.
The rest of the company's fleet, i.e. company cars for managers and salespeople, will also be electrified. The process is going to be gradual, and whenever a car reaches the age of six years, when it would normally be exchanged for a new one, its user will receive an electric offer in the form of the ENYAQ iV. "For anyone who's hesitant, we may eventually extend the corporate life of the internal combustion car by another four years. But after that the only car they will be offered will be an electric one," the fleet manager says with a smile, adding that executive cars will have a battery with a capacity of 82 kWh, while the current pool cars are 62 kWh. But even that is plenty sufficient – the company's in-house research has shown that 98 per cent of company car use is less than 150 kilometres per day.
Dispelling myths
Tomáš Talaš adds that employees' reactions to the introduction of eMobility in the company have been altogether positive. "Our CEO's has been a major contribution: it is motivating people to try out the innovation for themselves. Even though there was a lot of prejudice, we have been quite successful in raising awareness. Fears about the low range are gradually disappearing as people find that the actual range is sufficient for pool cars and for future executive cars. People are renting the cars a lot: we've had over a hundred private rentals for weekends and such. Colleagues have even driven to Croatia or Barcelona."
Despite the clear goal of running an all-electric company fleet, Komerční banka realises that this matter must be handled sensitively and gradually, rather than imposing the transition on employees as an immediate obligation. "People need to be given time to get used to it. They need to find out how wonderful it is to drive an electric car, to find out that charging stations are easy to access. There are a lot of preconceptions out there that we as the management need to dispel – if only by offering people the opportunity to use electric cars and showing them how much better and more enjoyable the experience is compared to conventional cars. This is the only way to dispel fears that the car doesn't have enough range and that people will be stuck on the road with nowhere to recharge," explains Juchelka.
Komerční banka employees have charging cards for their electric cars that cover the three largest domestic charging providers. Even on longer business trips it's easy to recharge. The bank has built a network of its own chargers at its headquarters in Prague's Stodůlky district, in its building in Prague's Wenceslas Square and at its training centre near Benešov, and more are being added at a brisk pace, especially in the regions. The plan is to have one charging station for each car, and of course more in the capital. Today, there are 180 chargers for the current 130+ cars. In addition, the bank has prepared a scenario for the transition of the executive fleet to all-electric – a suitable number of chargers will be installed at each regional branch, and employees with a company car will be given the option of purchasing a home wallbox at a discount price.