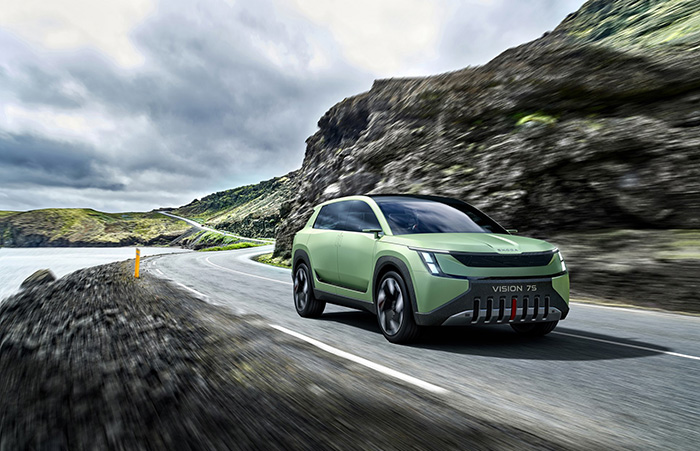 IT'S A REVOLUTION. BUT OUR RULES REMAIN
"We have a new design strategy for ŠKODA which is also embedded in the brand's transformation towards eMobility. We created it to be more unique. We want to play our own role and give a very distinctive look to our cars," says Stefani at the VISION 7S showcar.
ŠKODA VISION 7S study
Is it an evolution, or a revolution in ŠKODA's design?
I think this time we can really talk about a revolution. ŠKODA has always been building quality design and now that we're at a certain level, we've shifted to another direction really. We can call this a revolution.
What is the basic idea and inspiration?
Our new design strategy is also based on our brand values. And from them we're developing our design values – solid, authentic and simple. Words are good to have, but as a designer you need something more tangible. So for each of these design values we were looking for images or subjects that can represent them and inspire us. It can be anything from a bicycle helmet to a spaceship, at the same time an everyday modern kind of a product, but also a very nice and highly functional and authentic piece. So functionality and this solid appearance can be nice and evoke emotions. And that's also very important for us.
Can you point out some design elements of the concept car?
Design is always about proportions, that's the crucial thing. Then it's also how we treat surfaces, how we treat volumes. And shapes. All these are very solid on the concept, and we also see a few lines, that's the simplicity. And it emphasises where we want to have our strategy - around the wheels for example, or at the rear and front. And on top of this we have very modern elements like T-shaped fog lights and headlights which will be very distinctive for ŠKODA in the future.
One part that's changed the most is the face of the car. With the transformation from combustion to the electric engine we don't need the classical grill anymore. But we didn't want to throw everything away and go for a no-face front, because the 125-year heritage of the brand and the characteristic shape of the grill is something we should be proud of. But we wanted to transform this, too. We found out that the ŠKODA line that goes around the car drops down and goes away on the other side, together with the ŠKODA lettering is something everybody immediately recognises as ŠKODA.