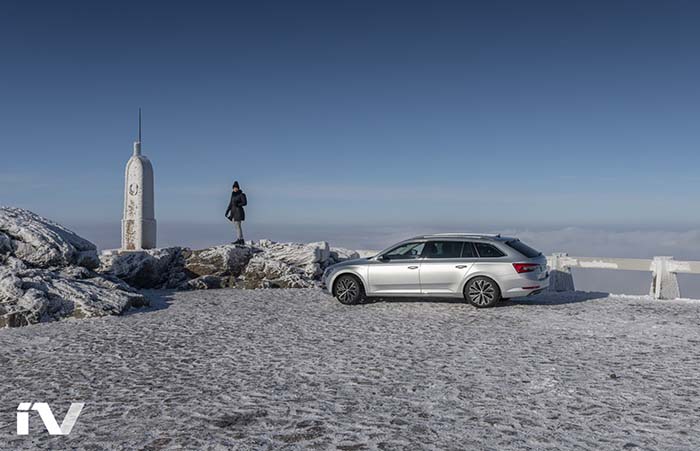 ŠKODA SUPERB iV RECUPERATING AROUND JEŠTĚD
Explore some of Czechia's loveliest spots while discovering the practical advantages of electric cars. The first destination chosen by our guide Anna is Ještěd, a peak embellished with the unique structure of a television transmitter built at the turn of the 1960s and '70s.
Ještěd
Ještěd is a peak 1,012 metres high located to the southwest of the city of Liberec in North Bohemia. Although it is only the 347th highest mountain in Czechia, it is one of the best-known, thanks to the unique television transmitter and the hotel that has been open since 1973. The building is in the shape of a single-piece circular hyperboloid and is almost 100 metres tall. The structure was designed by Karel Hubáček, co-founder of the acclaimed Czech architecture studio SIAL. In spring 1969 Karel Hubáček received the August Perret Prize, the highest award of the International Union of Architects, for his creative use of technology in architecture. In the year 2000 the building was declared the "Greatest Czech Building of the 20th Century".
Thanks to her plug-in hybrid ŠKODA SUPERB iV, Anna's journey from the pretty village of Kryštofovo Údolí was swift but consumed minimal fuel. With its 13 kWh battery housed beneath the floor of the luggage compartment, the SUPERB iV can travel up to 62 kilometres on electric power alone.
Beneath the bonnet the SUPERB iV has a four-cylinder 1.4 TSI petrol engine generating 115 kW as well as an 85 kW electric motor. A six-speed DSG automatic gearbox delivers power to the wheels. By using the transmission selector lever, Anna helps gain the maximum benefit from energy recuperation on the drive from Ještěd back down to the village. This makes the electric motor "reverse" its function, so electricity flows back into the battery instead of discharging from it. The energy is generated by engine braking while driving downhill.