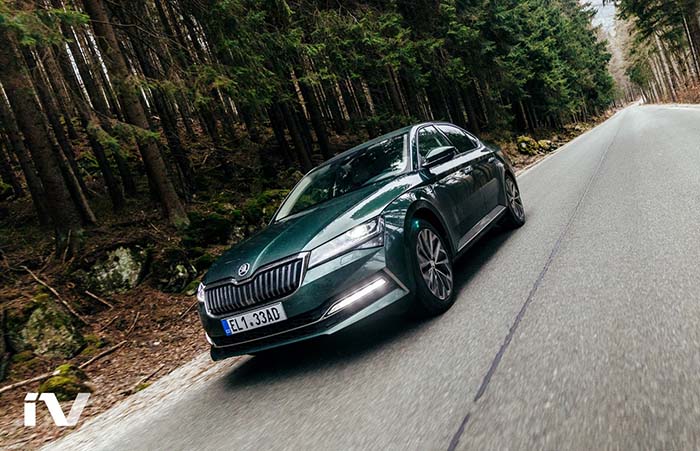 SUPERB iV FIRST-HAND EXPERIENCE: LET'S KEEP THE AIR CLEAN
Czechia's highest mountain range has three interesting and picturesque spots that Jan Řeháček wanted to visit. The hybrid ŠKODA SUPERB iV took him and his dog Sitka there. "That week was my first experience of an electric drive, and I have to say that I really like the idea. In my view, it's the industry's future and the best solution to cars' impact on the environment," enthuses the photographer who admits that he has become concerned about his carbon footprint recently. "Sitka and I spend a lot of time in the mountains and the countryside in general, so it's important for me to know that I'm behaving responsibly in my work."
As soon as he crosses the boundary of the national park, Honza switches to purely electric power. Naturally, that runs down the battery, but on the journey back, with long descents from the mountains, the battery recharges thanks to braking recuperation. "When I reached the top of the climb there was just around eight or nine per cent of the battery left. The journey back down then charged the battery to forty per cent. I think that's just wonderful," says the influencer with over half a million followers.
Last but not least, he appreciates the car's connectivity. "I like the functions of the My ŠKODA app because I can check the state of the car before heading off – I can see how much battery charge is left or how much petrol there is in the tank. The app is easy to use and nicely designed."
Kopernikk
Jan Řeháček aka Kopernikk is a Czech photographer and content creator for advertising campaigns on social networks. He describes himself as a life-long dreamer. He started taking photographs seven years ago on a trip to the mountains that changed his life, sparking a desire for new experiences and the serenity of nature. Accompanied by his dog Sitka, he uses his camera to capture the beauty of nature, but he also points his lens at interesting urban sites. He has 530,000 Instagram fans and 37,000 Facebook followers.
www.kopernikk.com
"My next car will be a hybrid"
How would you rate the hybrid SUPERB iV?
Having the chance to test-drive this car was great, and I will be delighted to tell everyone I come into contact with about my positive experiences.
What specifically did you like about it?
Lots of things: the electric drive, parking assistant, window heating and the whole remote control functionality. Oh, and the huge luggage space – I never imagined that the tons of stuff I carry around with me would fit in the luggage compartment so easily.
Would you buy an electric car?
Last year I started to worry more about my carbon footprint, and I see this kind of car as a great way to minimise it. I don't know if my next car will be a SUPERB iV – maybe it'll be an OCTAVIA iV, but I already know I'll make sure my next car is a hybrid.
ŠKODA SUPERB iV
Combined fuel consumption of as little as 1.5 litres per 100 km, an electric drive range of up to 62 kilometres, a 1.5 TSI combustion engine and a combined power output of 160 kilowatts. Those are this environmentally friendly limousine's impressive vital statistics. Under the bonnet of the ŠKODA SUPERB iV you'll find a plug-in hybrid set-up that combines the best of traditional and electric powertrains. The result is a dynamic but green drive. Needless to say, the SUPERB iV is crammed full of convenient driver assistance and safety systems, automatic parking and innovative lighting. This is crowned by state-of-the-art connectivity that lets you remotely charge the battery with just a smartphone, for example.