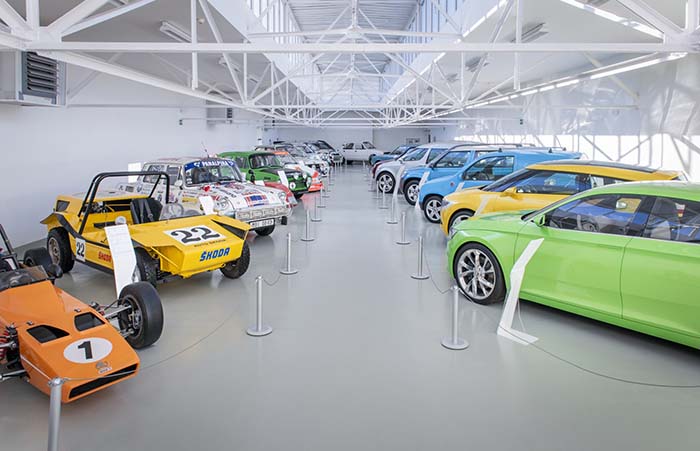 TAKE A LOOK INSIDE A UNIQUE CARS DEPOSITORY
SEAT Tarraco awarded Best Fleet Large SUV for second consecutive year at Great British Fleet Awards 2022
Tarraco praised for upmarket interior, practicality and competitive pricing
Competitive pricing and Benefit in Kind rate from 32 per cent makes SEAT Tarraco excellent value for money for fleets
The depository is divided into two parts: the tour begins with the precursors of mass-produced ŠKODA cars as well as studies and prototypes that never made it into production. The second part focuses on ŠKODA's sporting history, with a series of competition cars immersing visitors in the exciting race atmosphere. Join us on a brief tour. Your guide is Michal Velebný, coordinator of the restoration workshop, who will present some of the most interesting exhibits.
Probably the first thing that catches the eye of most visitors to the depository is the black ŠKODA 110 SUPER SPORT "Ferat" coupé (1971/1981), a sports car prototype. Ten years after it was first developed, the car was modified to play a starring role in the film The Vampire of Ferat, a Czech horror film of the same name about a bloodthirsty car. The pale blue ŠKODA 720 ID mid-range sedan, with bodywork by the legendary Giorgetto Giugiaro's ITAL DESIGN studio, tells the story of the dashed hopes for a modern world-class car with a classic drive concept. In the early 1970s, this promising development was stymied by Czechoslovakia's policy of normalisation.
Two stars of motor shows, specifically Frankfurt (2003) and Geneva (2005), tested potential customers' reactions to models that ŠKODA was preparing for new market segments: the ŠKODA ROOMSTER MPV and the brand's first SUV, the popular ŠKODA YETI.
The yellow ŠKODA JOYSTER, a three-door hatchback exhibited at Paris 2006, remained nothing more than a beautiful dream. But its equally applauded neighbour in the depository, the ŠKODA VISION C concept car, was given the green light, and the Czech carmaker's designers used it to test the response to the crystalline design that would soon adorn the third-generation SUPERB.