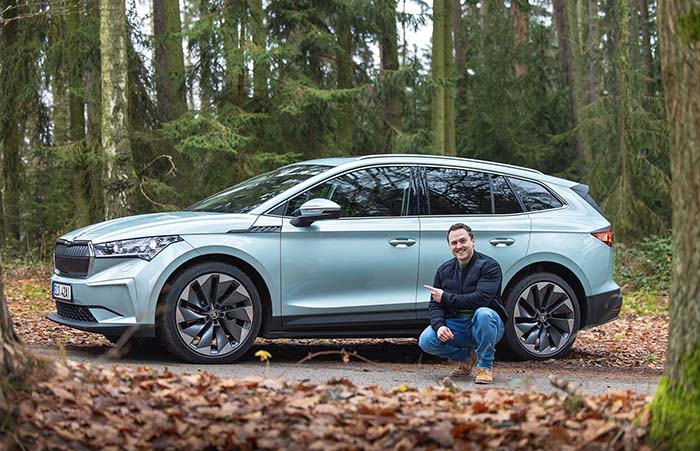 THE NEW ŠKODA ENYAQ iV WILL GET YOU IN 60 SECONDS
Outstanding design and amazingly quiet running: those are just two of many benefits of the new all-electric ŠKODA ENYAQ iV. The short video made by British motoring journalist Alex Kersten delivers a clear verdict: "The big radiator grille, LED Matrix headlights and shaped bonnet give character to the front, while the sloping roof and big 21 inch wheels make it a car that looks like it's doing 160 km/h even when it's standing still."
Alex goes on to mention the range of options the ENYAQ iV offers customers. Six individual interior design versions, three battery sizes offering a range of up to 520 kilometres in the WLTP cycle, rear or all-wheel drive, and five power and performance levels topping out at 220 kW.
"Driving the ENYAQ iV is a lot of fun thanks to its rear-wheel drive, low centre of gravity and 50:50 weight distribution," Alex adds. It's obvious the cornerstone of ŠKODA's electric era made a big impression on him. Soon he will take a much closer look at the ŠKODA ENYAQ iV with a full review.
Alex Kersten
The thirty-six-year-old motoring journalist is best known for his work at Car Throttle, a YouTube channel that began back in 2009. Before he joined Car Throttle in 2011, where he is in charge of video content, he worked for various car magazines, including Autocar. Alex comes from London and is a big ŠKODA fan. He created quite a stir with his series of videos about a second-hand first-generation ŠKODA OCTAVIA with 700,000 kilometres on the clock that he and his colleagues picked up for just 200 pounds. Alex is active on social networks as @autoalex.