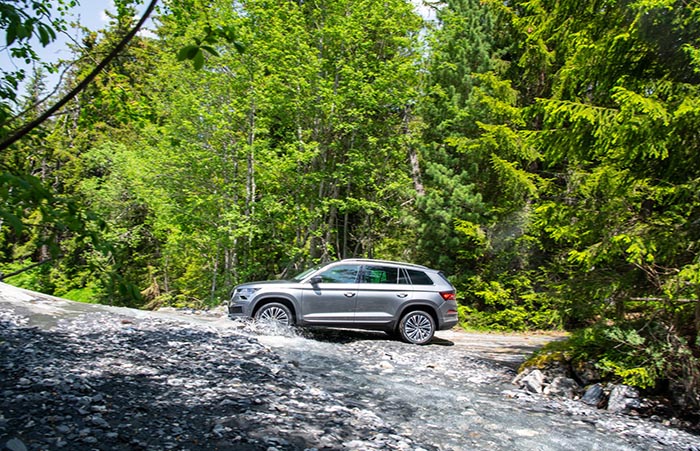 THE NEW ŠKODA KODIAQ WILL GET YOU IN 60 SECONDS
More comfort and convenience and an extra helping of modern technology. That is the upgraded ŠKODA KODIAQ, the largest SUV in the Czech carmaker's range. At the same time, the newcomer retains the model's traditional strengths, i.e. a generously roomy interior, a wide range of versions and powertrains and excellent value for money. Presenter Alex Montyro will show you the highlights of the upgraded SUV. You're going to love it.
More emotion
The design of the updated KODIAQ SUV gives the car more emotive looks. The new raised bonnet and redesigned upright radiator grille add character, while ŠKODA has also managed to improve the model's aerodynamics, resulting in lower emissions and fuel consumption. A new rear spoiler gives the KODIAQ a sportier look, while the car's rugged appearance is underlined by the 20-inch wheels.
New seats
New seats ensure the car's occupants, and especially the front passengers, will travel in comfort. The KODIAQ can now have ergonomic ventilated seats with massage function and perforated leather upholstery. Environmentally minded customers can go for the Eco upholstery option, which uses recycled material.
Modern technology
A virtual dashboard, an improved audio system, the Crew Protection Assist safety package and new ambient cabin lighting are just some of the technologies the new KODIAQ has to offer. For the first time in the model's history, the car can also be fitted with Full LED Matrix headlights. The ŠKODA KODIAQ can also be equipped with Full LED Matrix headlights for the first time in the model's history.
Powerful engines
The engines under the bonnet of the upgraded KODIAQ SUV range from 150 to 245 hp. At the top of the range is the new RS version, which is more powerful than ever, partly thanks to the switch to a petrol unit. But the popular diesel engines are still available, of course.