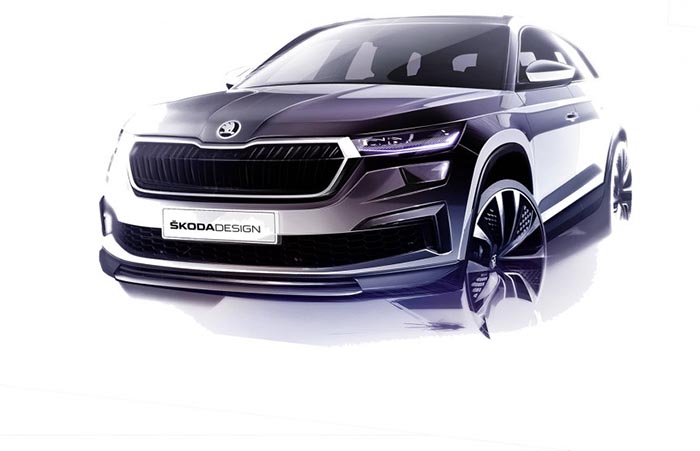 THE ŠKODA KODIAQ SETS OFF ON MORE ADVENTURES
On April 13, ŠKODA will unveil the rejuvenated design of its big SUV, the KODIAQ. Compared to the existing version, the most noticeable changes will be the more pronounced radiator grille and new headlight design. You can check out these new features both in the first sketches and a short video.
The KODIAQ is getting LED front headlights that combine with the fog lights to create a "four-eye" light design. These features, together with the more upright and now six-sided radiator grille, give the modernised car even more adventurous looks than before. Another distinctive change is the modified front bumper that is flanked on both sides by L-shaped panels. The car also has a wider central air intake and aluminium-coloured details.
On the rear we again find the typical C-shaped lights, but these are narrower and more chiselled than on the previous version. The rejuvenated KODIAQ will follow up the success of the previous version: ŠKODA has sold over 600,000 of these cars since the model was launched in 2016. The Czech carmaker's first big SUV paved the way for the current range of ŠKODA SUVs and also started the tradition of giving ŠKODA SUVs names starting with a K and ending in a Q. The KODIAQ was also the source of inspiration and springboard for the craziest ideas. Here are a few of them: