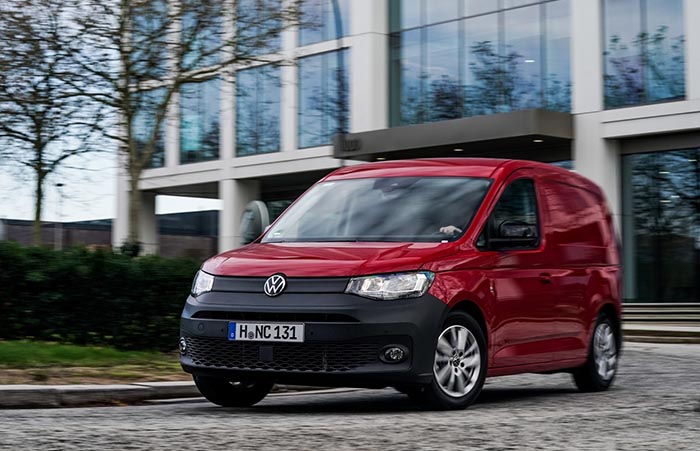 VOLKSWAGEN CADDY CARGO WINS SMALL VAN OF THE YEAR IN THE COMPANY CAR & VAN AWARDS 2022
Volkswagen Caddy Cargo scoops prestigious title of Small Van of the Year 2022
Volkswagen Caddy Cargo praised for comfort, connectivity, and safety systems
Company Car and Van Awards are decided by the magazine's experienced editorial team
Fifth-generation Caddy noted as a pioneer in terms of technology and safety
Milton Keynes, UK – Volkswagen Commercial Vehicles has scooped the 'Small Van of the Year' title in the Company Car & Van Awards 2022, with its award-winning Volkswagen Caddy. Commended for its advanced driver assistance systems, ride quality and comfort, the Caddy Cargo impressed the expert judging panel.
The fifth-generation Caddy has won the prestigious 'Small Van of the Year' category in the Company Car and Van Awards 2022, adding another award to its impressive list of accolades.
for its ride quality, smooth drive, and comfortable interiors, the Volkswagen Caddy Cargo was named best-in-class.
Featuring options such as a Digital Cockpit, voice control, wireless smartphone charging for complete convenience, and standard innovative driver assistance systems, such as Front Assist, the Volkswagen Caddy is a pioneer in terms of connectivity and safety.
The Company Car and Van Awards are decided by the magazine's editorial team, harnessing decades of experience of the light commercial vehicle sector. They reward the vehicles that best-serve the business marketplace across a broad range of criteria including operating costs, payload, safety equipment, and technology.
Andrew Walker, Editor of Company Car and Van, commented: "We loved driving the Caddy Cargo; it's comfortably the best small van we've driven, so an easy winner of our Small Van of the Year 2022. You'll find it comes with brilliant build quality, on trend tech and plenty of safety features. If you want a van that leaves you feeling like you've been driving a car, then the Caddy 5 is your man."
Rob Holdcroft, Head of Fleet at Volkswagen Commercial Vehicles, said: "We're delighted to add another award to the list of accolades for Volkswagen Caddy. The Caddy Cargo really is the perfect workhorse for businesses and customers looking for a compact van. At Volkswagen Commercial Vehicles we strive to offer extensive driver assistance and safety systems as well as excellent connectivity, to ensure we work with our customers to deliver the perfect van for you."
For more details on Volkswagen Commercial Vehicles' award-winning range of products and services, or to find your nearest Van Centre, please visit www.volkswagen-vans.co.uk.