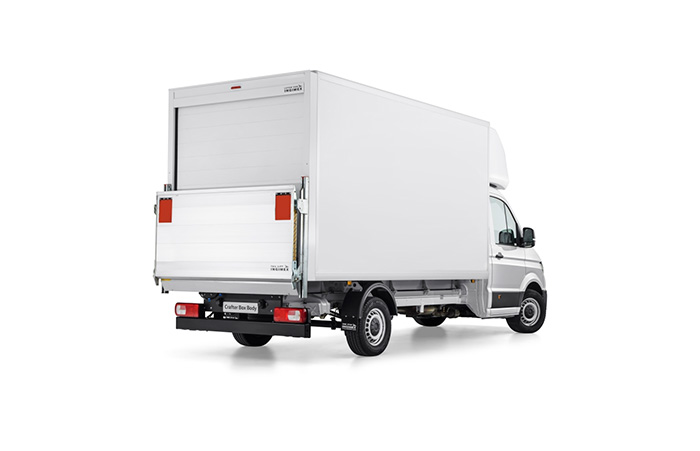 VOLKSWAGEN COMMERCIAL VEHICLES ADDS TAIL LIFT AS STANDARD FOR CRAFTER LUTON
Crafter Luton van with Palfinger tail lift now available through Engineered To Go scheme, price from £45,690* Offering tail lift combined with the Luton body significantly increases residual value.
Palfinger V500LQ tail lift provides 500kg lifting capacity
Conversion built on innovative chassis cab that provides strong and tailorable underpinning for award-winning Volkswagen Crafter
Milton Keynes, UK – Volkswagen Commercial Vehicles has launched a new Engineered To Go conversion for the Crafter Luton van, with the Palfinger tail lift now available as a model in its own right.
The new off-the-shelf model, which starts from £45,690*, means customers no longer need to option the tail lift, with standard-fit typically increasing residual values from £600 to £1,000, according to leading valuation specialists.
The Palfinger V500LQ tail lift provides 500kg lifting capacity on an aluminium load platform. The column lift is operated via dual controls on both the interior and exterior.
The Crafter Luton tail lift conversion is built on the brand's innovative chassis cab. Underpinned by an extendable ladder frame, this chassis cab allows the van to be easily and safely adapted into multiple variations, including Dropside, Tipper and Luton, each with extensive wheelbase (from 3.65m to 4.49m), payload (up to 1,562kg), and engine combinations. The chassis cab can seat up to three, including the driver, or seven with the double cab option, complete with three-point seat belts and adjustable head restraints as standard.
The chassis cab comes as standard in Startline trim, which includes Bluetooth, full size spare wheel, 75-litre fuel tank, and a range of driver assistance systems such as Driver Alert and Front Assist with City Emergency Braking to improve safety. An optional Business Pack, starting from £1,380 (exc VAT), includes air conditioning and an anti-theft alarm with interior monitoring, backup horn, and towing protection. The Crafter Dropside, Tipper and Luton have been completed by Premium Recognised Partner, Ingimex, and are available as off-the-shelf products through Volkswagen Commercial Vehicles' Engineered To Go programme, which ensures the highest build quality, a three-year warranty, and certification to the latest standards. The Palfinger tail lift is the latest addition to this offering.
Axtell, Specialist Sales Manager at Volkswagen Commercial Vehicles, said: "Alongside our partners, Ingimex, we are able to provide a safe, flexible, comfortable, and quality product. By making it available off-the-shelf, we can ensure the most premium and convenient vans for our customers as well as increasing residual values. Our conversions have been designed to suit a range of industry requirements, while still offering the opportunity of tailoring the vehicles to further suit specific needs via our Van Centres."
The chassis cab range
The Crafter Luton
The Crafter Luton, available with or without tail lift, sports a premium finish with lightweight sides, a bulkhead with no visible fixings, and bolted rear frame that is dip painted and powder coated to resist corrosion. For enhanced safety, the Luton features a distinctive four-tier restraint system for deck and standard load lock lashing. At the rear is a high-strength shutter, footstep, and full height grab handle with integrated 360-degree rotating spot lamp. Prices start from £42,840*.
The Crafter Dropside
The Crafter Dropside, with payloads up to 1,279kg, is a great option for construction workers, and can be ordered with optional fall arrest rails, beacons, storage pods and tail lift. The Crafter Dropside features a bolted front bulkhead ladder rack with 400kg capacity, recessed load down lashing rings tested to 800kg, while boards and lock assemblies are tested to a burst load of 1.7t. Seamless aluminum boards contrast the livery, while the resin coated birch non-slip desk combines style and safety. Prices start from £37,845*.
The Crafter Tipper
Made with a high strength steel platform, and retractable load lashing rails, the Crafter Tipper is designed to carry heavy duty material, with a maximum weight capacity of 1,046kg, and a 400kg capacity on the front bulkhead ladder rack. The Tipper functionality is controlled via wander lead, enabling its contents to be emptied quickly and easily. Prices start from £40,075*.
The Crafter Flatframe
The Volkswagen Crafter Flatframe is a specialist version with a frame that is 190mm lower than the standard chassis cab. The low floor makes it ideal for conversion into Luton and coach-built Motorhome applications. Available as medium and long wheelbase versions, both are supplied with an open back cab ready for conversion, with the option to supply without a cab roof. Dual passenger seat configuration is standard, but it can be changed to single or single swivel seats.
In addition to the Engineered To Go variants, the chassis cab can also be adapted for unique conversions, such as a lifting platform, refrigerated box van, crane tipper or recovery vehicle, giving customers complete flexibility. For more information regarding the Crafter Chassis Cab and accompanying conversions, please visit: Volkswagen Crafter Conversions.