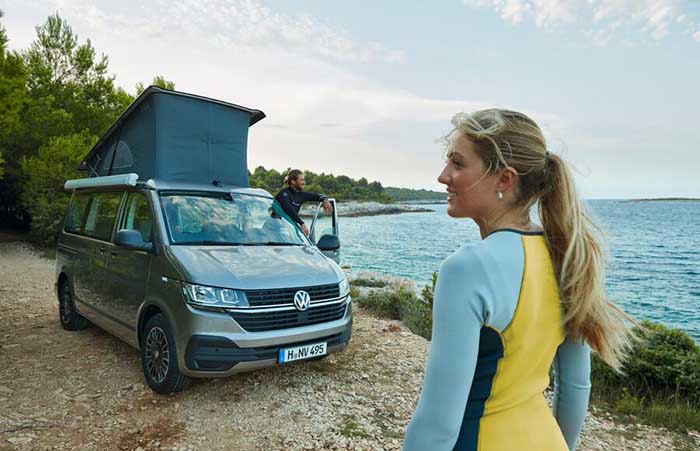 VOLKSWAGEN COMMERCIAL VEHICLES REVEALS NEW CALIFORNIA SURF TRIM
Volkswagen Commercial Vehicles adds new California Surf trim level to the iconic T6.1 line-up
Standard equipment in the new trim includes a gas hob and two burners, 8-inch 'Ready to Discover' infotainment system and heated front seats for driver and passenger
New California Surf trim starts from £68,234*
Adding to the Transporter 6.1 line-up, the campervan choice for many, California Surf sits between the Beach Tour and Ocean variants
Milton Keynes, UK, 28 February 2023 – Volkswagen Commercial Vehicles announces new trim level, California Surf, to the Transporter 6.1 model range, with prices starting from £68,234.*
Adding to the existing California range – consisting of Beach Tour, Beach Camper and Ocean – the new California 6.1 Surf sits between the Beach Tour and Ocean. It is equipped with essentials that make camping trips with the family easy and comfortable.
Building on the Beach trims, the California Surf features a gas hob and two burners, a stainless steel sink with a removable washing-up bowl, and heated front seats.
As seen throughout the range, the California Surf is capable of comfortably sleeping a family of four, thanks to its loft bed and convertible back-seat bench that folds out into a bed for two. Powered by a 2.0 TDI 150PS seven-speed engine with direct-shift gearbox (DSG) and featuring 16-inch Clayton alloy wheels, the California Surf is fitted with the latest technology and connectivity systems. These include 3-zone climatronic climate control and an 8-inch 'Ready to Discover' infotainment system, with 8 loudspeakers, bluetooth® hands free and wireless App-Connect.
Driver and safety assistance systems, including Adaptive Cruise Control, Park Assist and Crosswind Assist, are part of the standard offering across the California line-up. Thanks to Trailer Assist technology, front and rear parking sensors on the new trim notify the driver of nearby objects, even when the vehicle is towing a trailer.
The California range consists of compact exterior dimensions and vehicle height of 1,990 mm, making it a practical day-to-day vehicle and camper van all in one. The range also offers flexible seating options, with a choice of between four and seven seats, depending on the chosen trim. With a standard mini-kitchen, camping table and pop-up canvas roof, the Beach Camper is a compact all-rounder, perfect for camping beginners. The California Beach Tour is designed for everyday users, with the option of up to seven seats and versatility that makes it suitable for spontaneous excursions. In the Ocean trim, included as standard are a digital cockpit and a fully functional kitchen, with gas hob, sink and fridge. Atmospheric background lighting and an electro-hydraulic elevating roof makes every journey a dream holiday.
More information on the Volkswagen California range can be found here: Volkswagen California