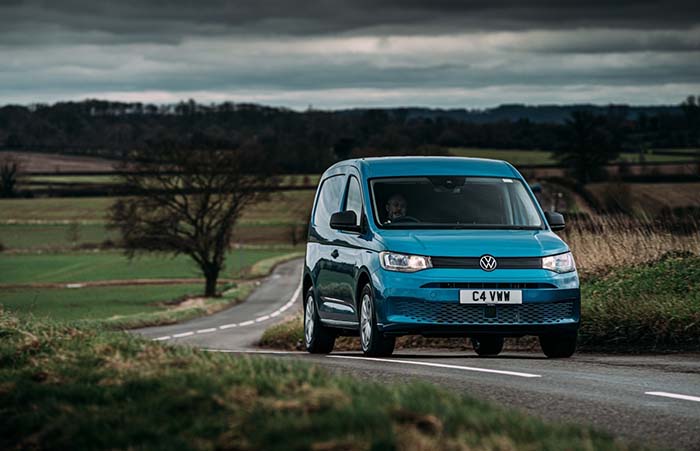 VOLKSWAGEN COMMERCIAL VEHICLES' CADDY CARGO NAMED BEST COMPACT HIGH-CUBE VAN AT FLEET WORLD AWARDS 2022
Volkswagen Caddy Cargo wins Best Compact High-Cube Van award
Judges praised the Caddy for strong connectivity features and range of specification options
The Fleet World Awards recognise innovation found in the UK fleet industry
Awards are decided by an expert judging panel of editors
Milton Keynes, UK - Volkswagen Commercial Vehicles has secured the Best Compact High-Cube Van title at the Fleet World Awards 2022, with the Volkswagen Caddy Cargo.
Judges praised the Caddy Cargo for its connectivity features, such as Bluetooth hands-free functionality, We Connect services, and breadth of product specification options, including different volume and payload derivatives. In this highly competitive market, the Caddy was also recognised for its newly designed and innovative dashboard and spacious interior.
The Caddy Cargo is designed with comfort and adaptability in mind. Available with the latest semi-autonomous safety technology, including Trailer Assist and Rear Cross Traffic Alert, the Caddy is an innovative office on-the-road.
The annual Fleet World Awards highlight the leading fleet companies, suppliers and manufacturers in the UK. The expert judging panel is made up of Fleet World editors, all of whom boast decades of invaluable experience and industry knowledge which is used to decide the winners in each category.
John Challen, editor-in-chief at Fleet World, said: "The Volkswagen Caddy Cargo 5 arrived last year, based on the same MQB platform that underpins the Volkswagen Golf, among other models in the Volkswagen Group. As before, there are standard length and Maxi models, providing a range of body volume and payload options. Three trim levels give fleets plenty of spec choice and the dashboard is a new design, very much in keeping with those of Volkswagen's car ranges. Three screen options offer a range of connectivity choices including We Connect Fleet. This is a highly competitive van sector, but Caddy is a convincing choice."
Rob Holdcroft, Head of Fleet at Volkswagen Commercial Vehicles, said: "We are delighted that the Caddy Cargo has been named the Best Compact High-Cube Van at this years' Fleet World Awards. Our main priority is to provide the highest quality products to our customers, as well as support fleets as much as possible. We are proud to have secured this award."