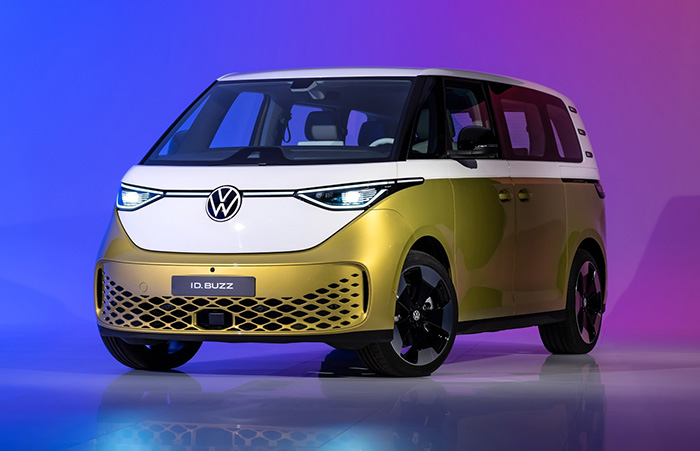 FROM DREAM TO REALITY: THE 1972 ELECTRIC T2 BULLI THAT INSPIRED THE NEW ID. BUZZ
Idea behind the new ID. Buzz dates back to 1972 and T2 electric prototype
T2 featured battery replacement, while ID. Buzz supports rapid charging
Groundbreaking energy recovery system now common in electric vehicles debuted on T2 Bulli
New ID. Buzz features the latest in connected and automated driving systems that were just a dream 50 years ago
Milton Keynes, UK - In 1972, Volkswagen revealed a prototype T2 Bulli, which featured an electric motor in the rear. The arrival of the new Volkswagen ID. Buzz makes that 50-year-old dream a reality.
The foundations for the all-electric ID. Buzz were first laid in 1970 when Adolf Kalberlah, Head of the Future Research Department, designed the first electric drive systems for Volkswagen. Two years later, and the T2-based Bulli was displayed as a prototype.
The very first prototype of the T2 - a flatbed truck with an open loading area – weighed 2.2 tons and carried an 880kg battery with a capacity of 21.6 kWh. By comparison, the ID. Buzz has a battery capacity of 77 kWh, but weighs just 500kg.
Space-saving MEB concept for the ID. Buzz
The 1972 electric T2 was based on the platform of the conventional T2, making it difficult to install the battery in the vehicle underbody. Instead, the battery was mounted on the loading floor where it could be removed if needed. By contrast, the ID. Buzz is based on the Volkswagen Group's Modular Electric Drive platform (MEB) and has a totally new architecture. This makes it possible to install the battery package deep and flat in the "sandwich floor", resulting in a lower, more dynamic centre of gravity, which delivers agility, safety, and driving pleasure while also creating more room and a new sense of space in the interior. With no motor installed in the front, the ID. Buzz, just like the T2, has an incredibly tight turning circle, making it ideal for navigating tight city streets or car parks.
Battery replacement vs. battery charging
The range of the T2 electric van was around 85 kilometres, but rather than recharge, Volkswagen developed an innovative battery changing system. In 1978, a fleet test of seven T2s was conducted in Berlin with a changing station in the Tiergarten district. It took engineers just five minutes to replace an empty battery with a fully-charged one, helping to reduce the waiting time of several hours that would've been needed to charge the battery.
The principle of battery replacement is no longer used these days thanks to radical improvements to charging capability. The ID. Buzz has a maximum charging capacity of 170 kW at rapid charging stations, which means batteries can be charged from five to 80 per cent in roughly half an hour.
Energy recovery system already to be found on the T2
When it comes to energy management, Volkswagen was already progressive in the 1970s. The T2 electric van possessed an energy recovery system, which retrieved kinetic energy under braking and then used this to charge the battery. A technological tour de force at the time, this is now taken for granted. While this technology has been refined and optimised for the ID. Buzz to increase range by 20 to 30 per cent, the basic principle of generating energy through inertia in a closed system remains the same.
Dramatic changes over five decades
There have also been some fundamental changes, which are down to technological development. Back in 1972, who would have thought one day they could teach their Bulli to park itself, as you can the ID. Buzz? Or speak to it via voice control, to prevent the windows steaming up or to request that the T2 calculate the route, including stops for charging? What began as pioneering work with the T2 electric van in 1972 is now, 50 years later, reality. Progressive and versatile – the ID. Buzz combines the most important automotive trends of our time: electromobility, intelligent networking of assistance and information systems, technical prerequisites for automated driving and over-the-air software updates. For more information about the Volkswagen ID. Buzz, please visit: Read more