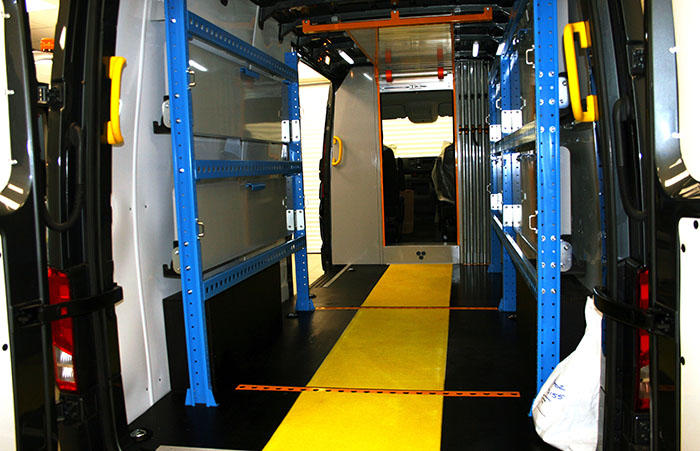 Volkswagen Commercial Vehicles launches Crafter delivery van conversion to meet soaring demand
Delivery van conversion created in partnership with Bri-Stor Systems
Crafter features foldaway shelves and bulkhead roller shutter door
Launched to meet growth in online shopping and home deliveries
New conversion available to order from Van Centres now
Milton Keynes, UK – Volkswagen Commercial Vehicles has launched a new delivery van conversion for the Volkswagen Crafter, in partnership with Bri-Stor Systems, to meet the growing demand for home deliveries.
The courier and delivery market is forecasted to grow by 23 per cent year-on-year in 2020*, with companies recruiting new drivers and investing in larger fleets to fulfil the rising number of online shopping orders, a trend accelerated by COVID-19.
The delivery van conversion, priced from £5,600 (excluding VAT), makes the Volkswagen Crafter panel van even more versatile and adaptable, with a solution to help delivery drivers maximise the 3.45-metre and 9.9m3 load area.
The Crafter parcel delivery van features racking on both sides with foldaway shelves to give drivers day-to-day flexibility for whatever they are delivering. Six telescopic load poles mean both smaller packages and larger parcels can be secured and protected as required throughout the cargo area.
The Volkswagen Commercial Vehicles and Bri-Stor Systems conversion also features a walk-through bulkhead with roller shutter door, so drivers do not have to stand with the side or rear door wide open in rain searching for a parcel. This also has the added benefit of increased security with load doors open for less time.
Security is further increased with the availability of auto-locking technology. This automatically locks all doors after a set period to give drivers peace of mind when completing deliveries away from their van. Nick Axtell, Specialist Sales Manager at Volkswagen Commercial Vehicles, said: "We recognise the importance of home delivery as a critical service to many people and industries, and that a standard panel van doesn't always fit the bill. Our aim, along with our recognised partner Bri-Stor Systems, was to develop a versatile and adaptable vehicle that maximised the load bay for delivery drivers."
The Volkswagen Crafter delivery van conversion is available to order from Van Centres now with all outlets complying with the latest government advice on COVID-19.
For more details on Volkswagen Commercial Vehicles' award-winning range of products and services, or to find your nearest Van Centre, please visit www.volkswagen-vans.co.uk.