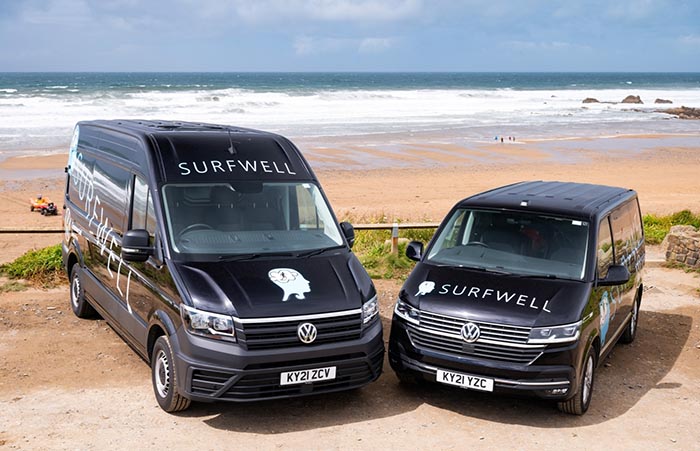 VOLKSWAGEN COMMERCIAL VEHICLES SUPPORTS SURFWELL EMERGENCY SERVICES MENTAL HEALTH INITIATIVE
Volkswagen Commercial Vehicles has loaned one Crafter and two Caravelle vans to the project
Vans used to transport the team and surfboards to and from the sessions
Surfwell is a new mental health initiative designed to support the emergency services, run by serving police officers
Surf therapy used around the world in military and charity sectors
Volkswagen Commercial Vehicles is supporting new emergency services mental health initiative, Surfwell, with a loan of three Volkswagen vans. One Crafter and two Caravelles will be used to support the charity throughout the summer.
Surfwell is a mental health pilot project set up by the emergency services to support staff struggling with mental health, resilience and workplace performance using the proven scientific benefits of surf therapy.
Surfwell's sessions aim to support blue light workers, such as the police, ambulance, fire, coastguard, RNLI, and other emergency service providers. The initial sessions are based in Devon and Cornwall with an aim to expand across the country in coming months.
As part of its support of the mental health charity, Surfwell, Volkswagen Commercial Vehicles has loaned one Crafter to transport the equipment to and from the sessions, and two Caravelles to transport the team and participants.
Surf therapy is used around the world in military and charity sectors helping people who have felt beyond help from more traditional approaches. The Surfwell initiative is the first time surf therapy has been formally trialled by the police as a support system for staff struggling with mental health.
James Mallows, Project Lead at Surfwell said: "We are pleased to have the support of Volkswagen Commercial Vehicles at Surfwell. Having seen first-hand the proven benefits of surf therapy, we really believe this initiative will help to support blue light workers across the UK. With the use of three Volkswagen vans, we are now able to transport our equipment and team easily and efficiently to and from sessions, and really focus on the task at hand. The use of these vehicles supports our goal of sustainability by reducing financial costs associated with hiring vehicles. We hope to continue to work with Volkswagen Commercial Vehicles as the project progresses."
Kate Thompson, Head of Marketing at Volkswagen Commercial Vehicles commented: "We are proud to support Surfwell and its incredible work around mental health in the emergency services. Mental health in the workplace is an extremely important topic and we're glad to be able to help with such an exciting initiative. We look forward to hearing how the sessions progress and hope to continue to work with Surfwell in the future."
The Volkswagen Caravelle offers the highest standard of professional passenger transport, with comfortable interior, state-of-the-art infotainment systems and innovative driver assistance and safety systems to ensure a comfortable and smooth journey. Offering a load volume of up to 18.4m3, the Volkswagen Crafter is the perfect workhorse for transporting tools and equipment for businesses.
For more details on Volkswagen Commercial Vehicles' award-winning range of products and services, or to find your nearest Van Centre, please visit www.volkswagen-vans.co.uk.