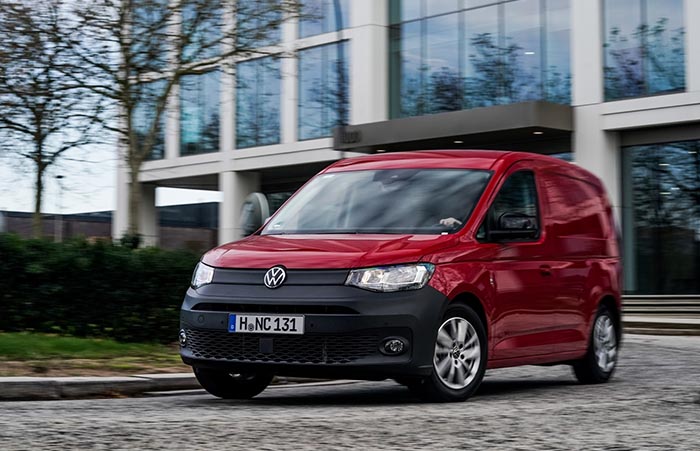 VOLKSWAGEN COMMERCIAL VEHICLES WINS 'SAFETY AWARD' AT THE WHAT VAN? AWARDS 2022
Volkswagen Commercial Vehicles praised for its advanced safety systems
Caddy Cargo also highly commended in the Compact Van of the Year category
Volkswagen Commercial Vehicles led the van industry in fitting autonomous braking systems as standard
Industry experts formed the experienced judging panel
Milton Keynes, UK – Volkswagen Commercial Vehicles scooped the 'Safety Award' at the What Van? Awards 2022 earlier today. The brand was praised for its advanced safety assistance systems while the Caddy Cargo was also highly commended in the compact van category. This year's judges, who were selected from across the commercial vehicle industry, praised Volkswagen Commercial Vehicles for its commitment to making its range of vans the safest on the road.
Volkswagen Commercial Vehicles was the first brand to introduce Autonomous Emergency Braking (AEB) as standard across its full range of vans back in 2019. The innovative technology means that the van's front assist sensors automatically apply the emergency brakes if it detects an oncoming collision below 19mph - if drivers don't react in time. Thatcham Research estimates autonomous braking could save 1,000 lives and 120,000 casualties over the next decade.*
Volkswagen Commercial Vehicles also offers additional driver assistance features to improve driver comfort and safety including Crosswind Assist, Lane Assist, Adaptive Cruise Control and Park Assist.
Volkswagen Commercial Vehicles' Caddy Cargo was also highly commended in the Compact Van of the Year category. The van's drive, comfort and advanced technologies particularly appealed to the judges. The What Van? Awards recognise brands, businesses and organisations that have reached the pinnacle of their fields. Following last year's virtual event, this year's awards resumed in person at the Nobu Portman Square in London.
James Dallas, Editor of What Van? said: "To its immense credit, Volkswagen Commercial Vehicles has led the way in introducing safety equipment to light commercial vehicles, an area that other manufacturers have historically neglected.
"In tests undertaken by Euro NCAP in association with the Thatcham Research Centre, the Volkswagen Transporter achieved the top-level Gold certification in becoming the highest-ranked van overall."
Rob Holdcroft, Head of Fleet at Volkswagen Commercial Vehicles, said: "Our customers' safety is our top priority so it's great to see our commitment to safety being recognised at this year's awards. It gives our drivers confidence that their vans are safe when out on the road, whether driving through country lanes or in urban areas. Of course, our work doesn't stop here as we're still coming up with innovative technologies to make our vehicles even safer in the future."