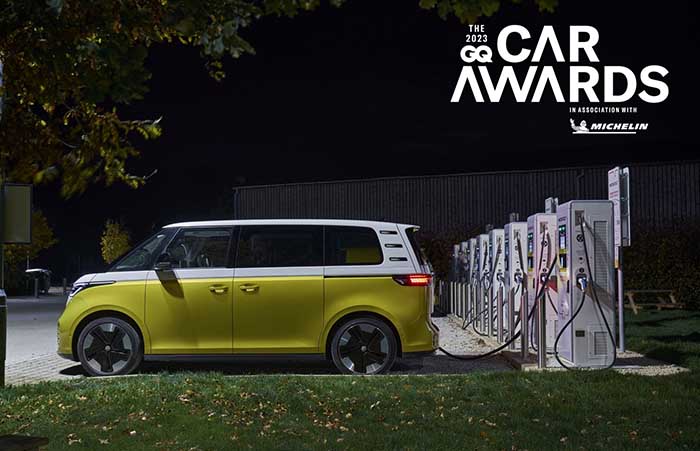 VOLKSWAGEN ID. BUZZ NAMED 'ICON OF THE YEAR' AT THE 2023 GQ CAR AWARDS
The all-electric ID. Buzz has been named 'Icon of the Year' at the 2023 GQ Car Awards
Judges praised the vehicle for its strong sustainability credentials and bright, iconic design that radiates feel-good energy
The 2023 GQ Car Awards celebrate the best all-electric and plug-in hybrid models across a range of new, classic and concept cars
Volkswagen Commercial Vehicles' ID. Buzz is the brand's first all-electric van, designed from the ground-up with sustainability in mind
Milton Keynes, UK, 21 February 2023 – Volkswagen's all-electric ID. Buzz has been named 'Icon of the Year' at the 2023 GQ Car Awards, after being praised for its 'eye-catching' design, impressive sustainability credentials, and feel-good energy.
This year's GQ Car Awards showcased the best electric and plug-in hybrid vehicles, from classic cars to new, concept and prototype vehicles, celebrating those that demonstrate automotive integrity and ingenuity. Inspired by the iconic design of Volkswagen's classic Type 2, the ID. Buzz was commended for its style and bright colourways, alongside its relaxing interior and strong sustainability values.
Commenting on the award, GQ said: "VW has had a hankering to reimagine the original Type 2 van for the past 20 years and the end result is the ID. Buzz. Filing under 'original, eye-catching and dope,' the elevated driving position and minimalist cockpit make it a breezy place to sit. Plus, with its bright colour options, planet-protecting EV ethos and unconventional design, it emits an aura that's nothing short of 'positive vibes only' with a hippie aesthetic. We (peace and) love it."
Kate Thompson, Head of Marketing at Volkswagen Commercial Vehicles, said: "We are delighted that the team at GQ have selected the ID. Buzz as the winner of this fantastic award, due to its positive sustainability elements and design features. As our first all-electric van, the ID. Buzz represents a major milestone in Volkswagen Commercial Vehicles' electrification journey. The ID. Buzz is a product that is reminiscent of the renowned Volkswagen aesthetic, combined with futuristic technology and green credentials, producing an icon fit for the electric age."
Praised for its "planet-protecting EV ethos", the ID. Buzz incorporates innovatively created materials in the interior, as well as being emissions-free on the road. Materials used for some seat covers, floor covering and roof liners of the ID. Buzz are made from recycled products without compromising on quality or comfort. As part of the wider Volkswagen Group's climate ambitions, the ID. Buzz also arrives to customers with a carbon neutral footprint.
The ID. Buzz five-seat people carrier and ID. Buzz Cargo van are available to buy now. Pre-orders opened last year; but if a customer were to order a new vehicle now, they could expect delivery in September 2023 (people model) or July 2023 (van), depending on specification.* More information on the ID. Buzz can be found here: ID Buzz
*Lead times will depend on specification and are correct at time of writing. Customers should speak to their dealer for details.