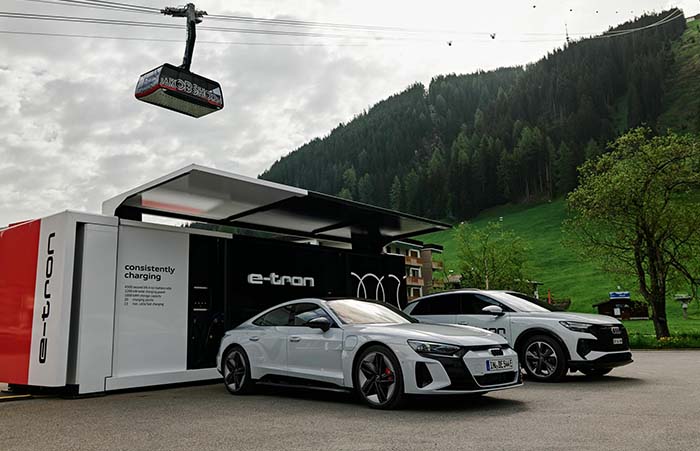 Audi at the World Economic Forum in Davos
Official shuttle fleet from Audi: 100 percent electric for the first time
Mobile charging containers provide 139 vehicles with green power
Premium fast charging: new Audi charging hub in Zürich
Hello spring, goodbye winter: the annual meeting of the World Economic Forum in Davos is happening in May for the first time, due to the coronavirus pandemic. Audi is supplying the summit with a 100 percent electric shuttle fleet for the first time, providing some of the world's top leaders with a unique experience. And while Audi is providing the cars with mobile charging containers in Davos, it is also investing in expanding charging options in urban areas and plans to help establish a sustainable battery supply chain in the future.
Audi is once again applying its mobility and charging solutions to support the annual meeting in Davos to meet its sustainability goals. Among other models, the fleet includes the Audi e-tron GT quattro1, the Audi Q4 Sportback e-tron quattro2, and the Audi e-tron quattro3, making it 100 percent electric for the first time. The mobile charging containers that we developed with 96 charging points, provide the cars only with green power in the parking area of the Jakobshorn valley station.
High power chargers at two large 30' containers can charge up to 16 electric models at the same time, without any connection to the power grid and can fully charge cars in around 45 minutes. Up to four electric models can charge at the same time at each of five smaller 10' containers. Four additional charging trailers will also be part of the charging park. All the charging containers include processed Audi e-tron batteries taken from development vehicles. This is a sustainable, second-life application that functions as buffer storage on-site and allows for a much higher charging capacity than the local electric grid. These batteries have a total storage capacity of about 5 MWh. The charging containers can increase grid power by more than a factor of seven: they can turn 350 kW of grid power into a charging capacity of around 2,600 kW.
We're looking forward to discussions with other forward-thinking people in Davos – people who, just like Audi, have a consistent commitment to sustainability," says Hildegard Wortmann, Member of the Board of Management for Sales and Marketing at AUDI AG. "From our electric models to our premium fast charging products to our contribution to a sustainable battery supply chain, we've shown that we have the courage to make lasting change at Audi and we will continue on that path."
Audi sets up another charging hub in Zürich
Audi is already engaged in intensive testing on a premium charging solution for urban areas. The company introduced the first Audi charging hub in late 2021 at the fairgrounds in Nuremberg. People who own electric cars but cannot charge them at home can reserve one of six high-power charging points with up to 320 kW of charging capacity at the hub.
The Audi charging hub is intended to meet peak charging demand in urban environments in the future. Soon we will be expanding this pilot project: in the second half of the year, Audi will be setting up another charging hub in Zürich.
Sustainable battery supply chain: Audi is co-developing a "Battery Pass"
Audi is also part of an initiative to support electric mobility that is ecological, climate-friendly, and socially responsible. To promote uniform standards, Audi has joined a consortium of German global market leaders and participants from the industrial and scientific worlds. Together, we are methodically developing specifications for a digital product pass for batteries known as the "EU Battery Pass." This project is supported by Germany's Federal Ministry for Economic Affairs and Climate Action. Additionally, Audi has been a member of the Global Battery Alliance since 2017. That initiative came about through the WEF in Davos and consists of partners in the public and private sectors throughout the entire battery supply chain. The alliance seeks to ensure social and ecological sustainability in the value chain for the raw materials that go into batteries. Among other things, it also deals with the conditions under which raw materials are mined and sustainable recycling concepts in the spirit of a circular economy. It focuses on innovations that contribute to battery sustainability.