Audi: Insist on Manufacturer Approved.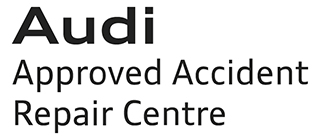 Eastend Coachworks Ltd is your local Audi Approved Paint and Body Centre for West Dunbartonshire.
Audi Approved Paint and Body Centres are committed to ensuring that the repairs to your car have been completed to the highest standards and in line with the Audi Approved repair methods.
Only Audi genuine parts will be fitted to your car, meaning that your Audi remains a Audi.
Audi Approved Paint and Body Centres provide you with a manufacturer repair and the highest quality customer service. Only Audi Approved repairs qualify for a Audi Authenticity Guarantee.
Audi Approved Paint and Body Centres strive to deliver exceptional customer service. So if your car is repaired by a Audi Approved Paint and Body Centre then we want to know what you think.
Read about our service we offer for Approved Accident Repair on the offical Audi website -

Visit Audi Website
Please contact us on repairs@eastendcoachworks.net
Customer Satisfaction & Repair Authenticity Guarantee

As a valued customer we welcome your feedback after the repair of your vehicle. Volkswagen Group use a star rating system to measure the performance of our Approved Repair Centre, these are updated every 3 months. To receive you Repair Authenticity Guarantee via email and help us to maintain and improve our high standards please take part in our short survey. All we need is your email address.